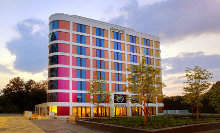 Starwood Hotels & Resorts Worldwide launched its Element brand in Europe with the opening of Element Frankfurt Airport.
Located in Gateway Gardens, Frankfurt's new business district adjacent to Frankfurt International Airport, the new hotel is the brand's first Element hotel outside of North America.
Starwood Hotels & Resorts, Europe, Africa and Middle East president Michael Wale said: "We are delighted to partner with Bari Gruppe as we expand the innovative Element brand beyond North America, bringing to Europe a fresh new option for travellers seeking spacious, long-stay environments that are both affordable and sustainable.
The average price paid for a hotel room globally increased by 4% during the first six months of 2014, when compared with the same period in 2013.
According to the latest Hotels Price Index report based on bookings made through Hotels.com , the overall economic recovery gathered greater momentum, particularly in Europe, with consumers becoming more confident in increasing their travel spending.
The global Hotel Price Index stood at 115 at the end of the first six months of 2014, 15 points higher than at its launch in 2004 and now only four points off its all-time high of 119 set in the first half of 2007.
Intercontinental Hotels Group (IHG) signed a deal to build a new 900-room luxury property hotel, part of the $1.1bn Wilshire Grand Center in Los Angeles, which will be the tallest building west of Chicago when it opens in 2017.
The new hotel will also be the largest InterContinental hotel in the Americas region and the first hotel built by Korean Air in the US.
InterContinental Americas president Kirk Kinsell said: "InterContinental Hotels & Resorts is IHG's luxury brand, which we have grown to be more than twice the size of any other luxury brand globally.
Cachet Hotel Group (CHG) successfully completed the renovation of its Urbn eco-boutique hotel in Shanghai, China.
The renovated URBN Shanghai will feature a signature Jay Godfrey designer suite, a brand new URBNfit fitness centre and a newly built entrance featuring an oversized stainless-steel sculptural ball, which reflects URBN's passion for art and design.
All the guest rooms will feature URBN's signature Renewal Bed and are upgraded with new Mayair Technology air purification systems.
Summit Hotel Properties acquired the Hampton Inn & Suites located in downtown Austin, Texas, US, for $53m.
The 16-storey, 209-guestroom Hampton Inn & Suites is the first property owned by Summit in the home of their corporate offices. The company has entered into a management agreement with Interstate Hotels & Resorts.
The property was built in 2002 and the company anticipates spending a total of $2.4m in capital improvements over the next twelve months.
Carlson Rezidor Hotel Group announced plans to expand its brand in Dubai with the Park Inn by Radisson Residence Dubai Jumeirah Village Triangle.
Scheduled to open in Q2 2017, the new property will bring Carlson Rezidor 's portfolio in Dubai to 14 hotels with around 3,300 rooms in operation and under development.
Rezidor president and CEO Wolfgang M Neumann said: "Dubai remains one of our most important markets in the Middle East. The country will further drive demand for internationally branded hotel rooms and serviced apartments.
Starwood Hotels & Resorts Worldwide entered an agreement with Shayher Leisure Holdings to launch its W Hotels brand in a newly-built mixed-use development in Brisbane, Australia.
Slated to open in early 2018, W Brisbane is developed by Shayher Leisure Holdings and Pau Jar Group of Taiwan.
Located on 300 George Street by the Brisbane River, the 305-room hotel will feature more than 960m² of modern meeting and event space, as well as a 24hr business centre, spa, workout facility, indoor heated swimming pool, and W Hotels The Store.
Wyndham Hotel Group signed a management agreement for the first upscale Wyndham Hotels and Resorts property in Africa, the Wyndham Amboseli Golf Resort and Spa.
The 290-room property will be located approximately 160km from Nairobi, the Kenyan capital, and is in proximity to the Amboseli National Park.
Scheduled to open in 2017, the property's amenities include an 18-hole golf course, a conference centre and spa, and a flexible meeting space with fitness facilities, including swimming pools and a tennis court.