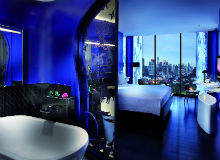 It's a fair bet that not many long-term strategies forged in 2007 survived the crises of confidence that were to follow. This was particularly true at the top end of the market, where questions were raised about the meaning of luxury in this new operating environment.
Prior to the crash, the five-star sector had been on the march. The term 'bling' entered the lexicon of hotel executives, owners and operators, who openly discussed the age of the 'seven-star hotel', and multinational operators moved to capitalise on this through an array of hastily launched 'luxury' and 'boutique' brands.
As talk of an impending age of austerity took hold, however, bullish pronouncements soon became notable for their absence.
A streamlined strategy
It was against this backdrop that Sofitel embarked upon a repositioning strategy, which, as the crisis unfolded, began to look counterintuitive in almost every regard.
Of its 204 hotels, 112 would either be rebranded elsewhere in the Accor group or leave entirely. The 92 surviving properties, along with those looking to join the group, would be expected to invest heavily in order to comply with new brand standards that sought to elevate the group into the upper echelons of the five-star market.
As the streamlining and cleansing process comes to a close five years on, it seems inevitable that some compromises must have been made as the economy turned and liquidity dried up. Owners don't like spending money at the best of times, but Robert Gaymer-Jones insists that retreat was never an option.
"We made the conscious decision to go from hotel owner to hotel owner, stressing that there could be no change in strategy," insists the Sofitel CEO.
"The worst thing we could have done would have been to start the roll-out only to begin cutting back. It was always going to be a difficult message and owners would see serious RevPAR declines as their properties got up to speed. It is true that some could not afford to invest, but we had to get fully behind those prepared to make the leap of faith. It was a healthy discussion."
Not everybody got to make that call. Access to the luxury consumer became paramount, and a core element of the repositioning process involved removing properties in secondary and tertiary cities from the fleet, regardless of performance. This concerted effort towards a shift in guest segmentation has seen the brand move from 75% business traveller occupancy towards a 50:50 corporate-leisure split.
Sat in the Noel Coward suite of London's Sofitel St James, Gaymer-Jones cites our surroundings as a perfect illustration of the type of location that fits the brand's new dynamic.
"We need to have the right mix of guests entering the market," he explains. "We're not a MICE [meetings, incentive, conferences, exhibitions] brand – we don't tend to have vast ballrooms – so the impetus is upon being geared much more towards the independent traveller rather than large corporate groups."
Global development
With this in mind, the group has identified 14 key and 38 strategic locations for development across North and South America, Europe, Africa, the Middle East, Asia and Australia. Along with serious refurbishment of surviving stock, 29 new hotels have opened since the brand repositioning and there are 30 projects in the pipeline – including nine openings this year. The target is to have 151 hotels in operation by 2015.
Following his appointment in 2007, Gaymer-Jones oversaw most of this process as COO. Elevation to the top seat was confirmed in July of last year, but he insists the change was more ceremonial than transformational. "I don't think I even saw an increase in salary," he laughs. "It's more a recognition, for myself and the team, that we've positioned Sofitel where we want it to be and are entering a new stage of the journey."
One might expect that stage to encompass a rapid growth strategy, but the 151 hotels targeted for 2015 is still 53 fewer than Sofitel held when the CEO joined the company. He admits that along with the 30 in the pipeline, Sofitel currently has around 55 contracts under negotiation – "of which we might get ten" – but there seems to be a heartfelt belief that luxury cannot be rolled out en masse.
"I have this idea that once we hit the 150 mark, it will become an exclusive collection," Gaymer-Jones explains, "like the Premier League – for one to join, another must leave. Of course, our shareholders want us to be as profitable as possible, and in 2015 we'll need to take stock and decide upon where the next stage of the journey takes us, but the size of the brand is not what matters to us; it has to be about getting distribution and market penetration precisely right."
The touchstone for this new Sofitel lies in what the CEO describes as "approachable luxury", a rejection of bling rooted in the creation of truly "authentic" experiences.
"The focus is very much upon service from the heart rather than the head," he explains. "We must demonstrate a connection with the client; a genuine understanding of their journey and what has brought them to our hotel."
This has necessitated an overhaul in staff education, rebranding employees as 'ambassadors' and engendering a more nuanced understanding of the luxury dynamic. Training now accounts for 4% of total wage expenditure and the 'Keys of Luxury' programme includes visits to the boutiques of leading French brands.
"The focus is very much upon service from the heart rather than the head."
"We don't want to talk about hotels," Gaymer-Jones says. "Ambassadors must tailor the experience for our clients, but a typical staff member does not spend his or her days in Hermès. Therefore, we need to help them view the world through the eyes of the guest."
Prior to embarking upon this strategy, Gaymer-Jones spent time with Chanel's HR department, going so far as to borrow elements of the fashion house's fabled Lookbook and giving it a Sofitel spin.
"This even comes down to how our staff dress away from the hotel," he explains. "If they understand what should go with what, they'll bring that attitude with them into work, and appreciate the Jean-Louis Scherrer uniform and why we went for the cut we did."
Gallic inspiration
The CEO returns time and again to the importance of positioning Sofitel within the pantheon of luxury French fashion brands. This not only reflects the heightened aspirations of Sofitel, but also an emphasis upon design and the celebration of Gallic heritage that sit at the very heart of its regeneration.
The latter is translated both through attitudes of service and subtle cultural touches fused with the customs and characteristics of each property's locale. Gaymer-Jones believes this marriage can be so subtle as to be "subconscious", but the brand's incorporation of design and designers is nowhere near as understated.
Collaborators on revamped and newly opened hotels have included such luminaries as Jean Nouvel, Kenzo Takada, Christian Lacroix and Andrée Putman. There is inherent risk in Sofitel's approach, but Gaymer-Jones clearly believes that the rewards on offer are worth it.
"We provide some operational guidance, but designers are ultimately given a blank canvas," he insists. "There are no cookie-cutter mock-up rooms in the basement of our offices; we want each hotel to have a completely distinct look and identity. When you give free artistic licence, word spreads very quickly among the design community and it becomes far easier to attract this calibre of partner. That helps to really differentiate our brand, particularly from the North American operators, who tend to be somewhat more standardised in what they are trying to create."
It also differentiates the group in the eyes of investors, although that can cut both ways. High-profile collaborations are extremely costly and going down the non-standardised route rarely represents the safe option. Gaymer-Jones claims to be happily surprised by how receptive both existing and potential owners have been to what Sofitel is trying to achieve, and believes there is a lot more long-term strategic thinking in the post-crisis market.
Sofitel also has ownership stakes in 20% of its portfolio, but an asset-light growth strategy means this figure is likely to drop quite rapidly. "I see it falling to 5% over the next three to five years," the CEO reveals. "We've already sold our Arc de Triomphe property and it looks as though Brussels Le Louise and Le Faubourg will soon be off our books. All are staying on long-term management contracts. We've created value for these hotels by repositioning them and can now take full advantage of this."
For a brand so keen to stress its French heritage, there's a noticeable absence of European openings among the nine properties either launched or launching this year in India, Australia, Thailand, the UAE, Morocco, Uruguay and Colombia. Gayer-Jones insists that traditional markets remain a key element of Sofitel's expansion programme, and hints at potential deals in New York, Paris and London – it is also noteworthy that eight of Sofitel's 14 priority cities are in the US and Europe.
"We're ready to focus on creating brand equity and reinforce the key messages of our brand pillars," he explains. "The next stage is new development: how do we develop hotels in key cities around the world?"
Five years on, it appears that staying the course was a good move for Sofitel – and now the group is well positioned to reap the benefits.
---
This article was first published in our sister publication Hotel Management International.
---