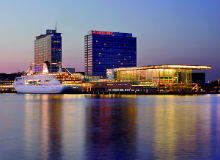 Not only are hotel guests increasingly concerned with the sources of their meals' ingredients, the recyclability of their toiletries' packaging and the energy efficiency of appliances, but the younger generation of upscale hospitality employees will accept nothing less from their employers than a 100% commitment to the sustainability agenda.
It has, therefore, become crucial for hotel operators, as both employers and suppliers of hospitality services, to jump on the sustainability bandwagon. And fast.
"If you don't address this issue now, you will be left out," says Ola Ivarsson, Mövenpick Hotels & Resorts' chief operating officer, Europe. "More and more customers are asking what hotels are doing in this regard and your team members are clever; they're learning about these issues. The senior people in this industry will be seen as slow-moving elephants if they don't address things that are becoming common sense for an increasing number of people."
As COO of one of the most sustainable hotel companies in the world, Ivarsson certainly practices what he preaches. Indeed, Mövenpick announced in March 2012 that all of its 21 hotels in Europe have achieved Green Globe certification, putting the hotel company on track to become the most certified in terms of reaching the internationally recognised sustainability standard.
The company's Middle Eastern hotels have all achieved Green Globe certification too, and the programme is being rolled out across Africa and Asia, with 66% of properties already certified.
Friends in high places
According to Ivarsson, the group's success in this regard has largely come from the foresight of its founder Ueli Prager. The private entrepreneur, who passed away in 2011, spearheaded a culture of caring for the environment from the very beginning. "Maybe it was not called sustainability at the time, but doing things differently and doing things very well is ingrained in the company's culture," Ivarsson emphasises. "The modern angle of sustainability has come very naturally to us."
In 2012, the firm's top management is no less committed to sustainability than the founder was back in 1948. "Moreover, top management is easily recognised because we are a mid-sized company. Many of our team members know the senior management and that makes it easier to facilitate the delivery of a message such as this," says Ivarsson. "We do management contracts rather than franchises so we are in close contact with our hotels all the time. The platform was always there; it's really been about showing that commitment from the very top."
"Even very small changes in the materials or formulations of products can have a big impact on a hotel's sustainability credentials."
Yet, while the support and forward thinking of senior management has been absolutely crucial to Mövenpick's sustainability achievements, Ivarsson is also keen to emphasise that the real work is still done on the ground. "It's done out in the hotels," he remarks. "Yes, you need to set a corporate agenda, but you also need to give different hotels and different regions the possibility to adjust themselves to local cultures, legislation and technical possibilities. Then you need an over-arching follow-up."
Enter the Green Globe certification. The global standard requires hotels to provide detailed proof of environmental, social and employer-related sustainable practices across more than 300 criteria, of which 100 are mandatory. "We can choose which indicators we want to focus on for each hotel, which gives the possibility for local adoption," Ivarsson explains. "We also wanted something that demanded an external audit so we could be sure that what we'd been doing had really been done."
It's very difficult for customers to judge your sustainability performance; you need a label that helps you to summarise your activities and give you some sort of rating. I wouldn't say it's a scientific rating; rather, it's an indication of where you are with your hotel. We're not claiming that we're a sustainable company, but we are claiming that we have understood the agenda, we have set ourselves some strategic objectives and we are working consistently towards achieving those objectives, a journey that could take us decades.
Strategic sustainability
Mövenpick has been using the framework for Strategic Sustainable Development, created by Swedish international NGO The Natural Step, to better understand and integrate sustainability into its strategy and operations. Based on systems thinking, the framework recognises that what happens in one part of a system affects every other part, and advocates the use of a common language and understanding to facilitate cooperation within a company and move towards a common goal.
"The framework has been instrumental in helping us to move in the right direction," says Ivarsson. "The issue of sustainability is so complex and you cannot dictate the details from the head office. You need to create a frame of awareness and a frame of knowledge so all managers and individuals can use their own common sense and guide themselves. Although The Natural Step's sustainability principles are science based, they are worded in a way that is easy to understand for non-scientists."
Not only has the framework helped to integrate Mövenpick's sustainability strategies within the company, it has also been invaluable for explaining the group's expectations to suppliers. "We aren't experts on how to mix the best detergent," Ivarsson acknowledges. "But we can tell our suppliers what we need in order to be more sustainable and ask them to support that development by giving us the right chemical formulations."
Even very small changes in the materials or formulations of products utilised for repetitive processes, such as in-room hand soap, can have a big impact on a hotel's sustainability credentials, and this is where suppliers can really make a difference. "We wrote to all our suppliers and informed them of the programme we are following and now we're seeing some of them responding very positively, saying they can be proactive on this," Ivarsson says. "With some, we inform them that this is a particularly important process for us because it is repeated so many times per day, and per year. All of our suppliers also understand that it's good for their competitiveness to help us on this journey."
For Ivarsson, however, small changes need to be bolstered by big statements. "We're also trying to develop some iconic processes, such as the wooden key card, which gets a lot of attention from our team members and helps to create energy [among staff] in the process," he explains.
Indeed, the programme could not function without the engagement of the hotel group's entire workforce, which is why the company has developed an online e-learning toolkit. In total, the firm's European employees spent a total of 10,000 hours in training, and, according to Ivarsson, this has more than paid off.
"The team love it," he stresses. "When they feel like you're listening to them and giving them resources to implement their ideas, it creates an enormous power within the company. It's overwhelming."
Unsatisfied with merely creating positive energy within the Mövenpick group, however, the upscale hotel chain has decided to share its e-learning tool with the rest of the industry, including its competitors. "The hotel industry, particularly in Europe, is very fragmented and not all of the hotels have the money or resources to develop these training tools," Ivarsson says. "Our corporate values are quality, reliability and care, so we felt it was part of our responsibility to society. It has been very positively received."
While many of Mövenpick's counterparts will certainly benefit from the group's generosity, operators in the luxury space also have lessons to learn from the Switzerland-based organisation. For Ivarsson, there is no excuse for luxury properties to shun their environmental responsibilities, claiming they can not afford to cut corners on service.
"Resource use does not all happen in front of house," he argues. "For those GMs who are worried that it's difficult to improve sustainable performance because of their clients' attitudes, attack the back of house first. There's a long agenda that can be addressed even in upscale and luxury properties, and even small percentage changes will lead to great improvements in sustainability performance."
At Mövenpick, senior management and stakeholders needed very little persuasion before they were on board with the company's sustainability strategy. And for Ivarsson, this is largely for one simple reason. "What would the cost of not addressing those issues be? You would be left behind," he says."