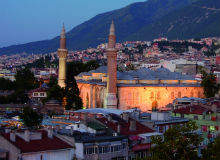 It has all the hallmarks of a great pub quiz question: after Paris and London, name the third most-visited city by international arrivals in 2011. New York? Fourth. Dubai? Eighth. The answer, according to the World Tourism Organization, is a city of a little over a million people on Turkey's Mediterranean coast: Antalya.
For the record, Istanbul ranks ninth and topped both RevPAR and ADR growth lists among major European cities for 2011, posting figures of 19.5% and 21.7% respectively. The country as a whole has witnessed an increase of ten million in tourism volume in just five years and, of the globe's major economies, was bettered only by China in terms of GDP growth last year.
The clamour for full EU membership is a fading memory. This is a country significantly outperforming its neighbours to the West, leveraging long-standing relationships to the East and, in an increasingly globalised marketplace, re-establishing its historic role as the cultural and commercial crossroads of the world.
Having returned to Turkey in 1992 to become CEO of the 22-property-strong Ten Tur Group following a series of senior management roles abroad, Mehmet Önkal has witnessed the transformation first-hand.
A managing partner at BDO Hospitality Consulting since 1997, he has been key in bringing a growing number of international hotel operators into a booming market.
Expansion in Istanbul
If more evidence of Turkey's role as a global meeting place were needed, the World Economic Forum has kicked off in Istanbul the day prior to our conversation and the city's hospitality industry is doing a brisk trade.
"There are 1,100 foreign delegates in town," Önkal laughs. "You won't find a single hotel room vacant."
The country's largest city has long been an international leisure destination on a grand scale, but the growth of business travel has made it an even more attractive location for foreign operators. The list of high-profile launches is impressive: Shangri-La arrives in 2013; Raffles is scheduled to open late this year; Jumeirah has been in the city for over a month; Marriott introduced an Edition in 2011; and Starwood chose Istanbul as the location to debut W in Europe.
But one would be mistaken to interpret these design-led luxury openings as indicative of the market as a whole.
"I always say there is Istanbul and there is Turkey," Önkal explains. "The city had eight million visitors last year and, if performance so far is anything to go by, that number will increase in 2012. Of course there are exceptions – Mandarin Oriental is coming to Bodrum and Missoni has an agreement for a small golf hotel in Belek – but Istanbul remains the main focus for luxury brands."
Starwood Hotels & Resorts VP and regional director for east and central Europe Thomas Willms certainly sees potential for further growth in Turkey's commercial capital. The recent opening of Le Meridien brought its number of hotels in the city up to four and he is not willing to stop there.
"Istanbul is an all-brand city," he believes. "There is so much demand on both the European and Asian sides, and a lot of development out towards the airport. We know where we want to go, but it is a question of finding the right land and the right partner."
Starwood is not alone in trying to tap into the strength of Istanbul as a destination market, but land for development can demand $18,000/m2 and, as the market becomes saturated, opportunities are shrinking: "You can't build hotels at those rates," Önkal opines.
There are also some drawbacks to resort investment. "Opening our hotels all year round remains difficult because seasonality is so high," explains Peter Norman, senior VP, acquisitions and development EMEA at Hyatt. "The demand isn't there to fill the properties outside of season and trying to get a return for owners, considering the amount of investment required to open a full-service branded Hyatt hotel, is extremely difficult."
Opportunity elsewhere
A more recent development, one indicative of a booming economy, is the growing significance of Turkey's tertiary cities. The country has 20 municipalities with populations of a million or more, a burgeoning domestic flight network and an increasingly travel-savvy middle class.
"The joke used to be that if you were leaving Istanbul on business, you'd do everything in your power to return the same day," Önkal laughs. "There were hotels, but nowhere near international levels of quality. That is changing with the arrival of international brands. Now we can stay overnight."
Early next year, Starwood opens two hotels in the industrial centre of Bursa: a Sheraton and, intriguingly, an aloft, the group's design-led, select-service brand that looks to appeal to Generation Y. Thus far in Europe, aloft has focused on gateway cities Brussels and London to establish the brand. This city in the north-west of Turkey marks something of a departure.
"For a long time we spoke only of Istanbul and Antalya, perhaps Ankara," says Willms. "But there is now real opportunity outside these traditional destinations. Neither Bursa nor Adana, where we're also opening a Sheraton next year, are really tourist spots; it's a lot more about corporate business travel."
Norman also sees plenty of scope for growth in the select-service arena. After marked success stateside, Hyatt launches its first European Hyatt Place in Amsterdam next year and upper-mid-market credentials could make the brand a great fit for both seasonal and secondary markets. "There's nothing confirmed as yet, but it's an opportunity we've been investigating," he reveals. "Hyatt is not alone in that and competition will be pretty fierce."
Unlike major developments in Istanbul and resort destinations, the success of these brands in secondary cities will depend upon a predominant proportion of domestic business. "We're seeing a change in demographics," says Willms.
"Turkey is a very young country, the middle class is growing and people will not go straight into a St Regis or W. We're building brand awareness and aloft is great for that. Go out and see the crowd in the clubs of Istanbul or on the banks of the Bosporus in summer; we're talking about a very tech-savvy, plugged-in population."
Tourism targets and local support
Önkal attributes a large degree of Turkish success to the reforms of Turgut Özal's government that got underway in the early 1980s – "back when the country had fewer hotel rooms than Rhodes". More recent activity in tertiary cities, however, has been triggered by the efforts of the current administration and its 2023 Vision.
From foreign affairs to energy policy, goals have been set for the 100th anniversary of the republic. Among its targets for travel and tourism, Turkey wants to be the world's fifth-largest tourism destination (current standing: seventh) and host 50 million visitors a year (it welcomed 31.5 million in 2011) within the next 11 years.
A key feature of this strategy was the 2007 identification of, and investment in, destinations of touristic, cultural and historical significance, and important cities for trade and industry.
"There are about 20-25 of each and government efforts have made a huge impact," explains Önkal. "We suddenly saw the Hiltons, Rezidors and InterContinentals jumping into these markets, contacting investors and triggering a hotel boom in secondary markets that continues to this day. At the budget and mid-market level, the amount of activity is incredible."
"Istanbul posted 19.5% RevPAR and 21.7% ADR growth in 2011."
But just as important as finding the right location is locating the right partner. Despite strong economic growth, the level of foreign investment within the Turkish hotel industry remains low and operators are predominantly working with local developers.
"In commerce and industry, we see a lot of money coming in from abroad, but that's still not the case with tourism," Önkal explains. "There is some Gulf money – the Kempinski is Qatari-owned and Shangri-La has a 50% stake in its property – but the majority of our clients are drawn from Turkish industry: textiles, construction, automotive. The mix will change, but it may take a little time."
"Our investors may be based in Turkey, but they tend to do global business," says Willms. "The good thing is that they are very proud owners, in it for the long-term and prepared to invest in their properties; not private equity guys buying with a view to sell. They work overseas, so appreciate the global strength of brands and loyalty schemes."
Great expectations
Norman agrees about the quality of developer, but believes there is still some progress to make with regards to managing expectations. "There are lots of developers and investors, including our own, looking to increase their presence in the market," he begins. "There is a growing realisation that to hit a higher level, they need an established operator to tap into a higher rate of business.
"We are seeing some beautiful hotels and developments, but many owners expect to run the properties themselves. That's where we have run into difficulty: finding partners with the requisite experience of operating international brands and leveraging the distribution systems on offer. It's difficult at full-service level."
For that reason, the vast majority of properties are being operated under management contracts. Önkal cites the Intercontinental in Istanbul and Ankara's JW Marriott as high-profile exceptions, but, while there has been some activity in the mid-market and budget sectors, the franchising model remains in its relative infancy.
"With our core brands in key cities, we'll continue with management contracts," Willms reveals. "However, Four Points, Element and aloft are typical franchise brands and we would also consider Sheraton for franchise in tertiary locations. The priority for now, however, is establishing our properties in market and, to get that right, it's important we have the level of operational oversight that management contracts afford."
Such long-term strategising suggests that operators see Turkish economic growth as more than sustainable.
Norman readily admits the potential for a third full-service property in Istanbul, establishing a resort presence in Ankara and rolling out Hyatt Place nationwide. Despite announcing nothing "until the ink is dry", Willms sees Starwood "doubling our Turkish presence in the next ten years" and envisages a St Regis on the Bosporus, a Westin and aloft out towards Istanbul airport, "two or three" properties in Kayseri, a return to Antalya and a luxury resort in Bodrum. The sense of national optimism is clearly contagious.
"Our country has some pretty ambitious targets over the next decade," reflects Önkal. "The way we're going, I'd say confidence is pretty high that we're going to exceed them."
---
This article was first published in our sister publication Hotel Management International.
---