More than two years on, widespread COVID-19 concern appears to be declining as international travel resumes. However, COVID-19 continues to have an enduring impact on travel and tourism.
Consumers appear less concerned about COVID-19
COVID-19 continues to present unprecedented challenges to the travel industry. However, a GlobalData poll* revealed that 57% of respondents are "not concerned" or are "not very concerned" about the spread of COVID-19, amid easing travel restrictions and rising vaccination rates. Meanwhile, a lesser 33% of respondents were shown to still be slightly or very concerned. As such, there is reason to be cautiously optimistic for the return of travel demand as growth in international travel is finally expected in 2022. According to GlobalData's latest forecasts, at a global scale, international departures will reach 68% of pre-COVID levels in 2022. This is expected to improve to 82% in 2023, and 97% in 2024, before fully recovering by 2025 at 101% of 2019 levels.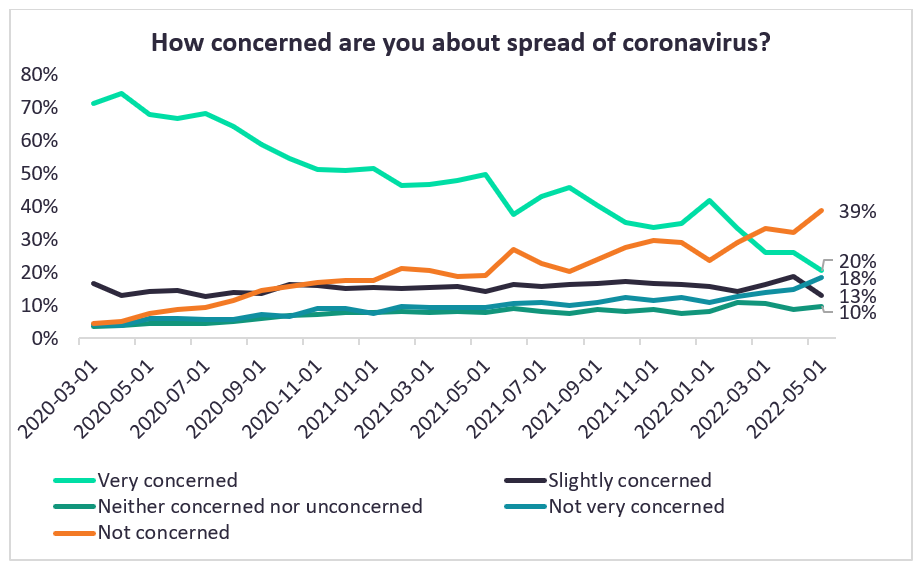 However, COVID-19 is likely to have had a lasting impact on consumer behaviour and traveller expectations. For instance, according to a GlobalData survey**, 76% of global respondents are concerned to some degree about eating out at restaurants because of COVID-19 risk. The same survey shows that 78% of global respondents are concerned about visiting shops because of COVID-19 risk. As countries gradually lift travel restrictions and tourism restarts in many parts of the world, health must continue to be a priority and coordinated heath protocols that protect workers, communities, and travellers, while supporting companies and workers, must be firmly in place to boost travel confidence.
COVID-19 losing momentum for companies
Coinciding with declining consumer concern, GlobalData's Company Filing Analytics reveals that COVID-19 is slowly losing momentum. From Q1 2021 to Q1 2022 mentions of COVID-19 in quarterly and annual company filings declined by 32.5%. However, there are several key trends that are likely to have an enduring impact which companies need to contend with and adapt to in order to succeed in the context of COVID-19.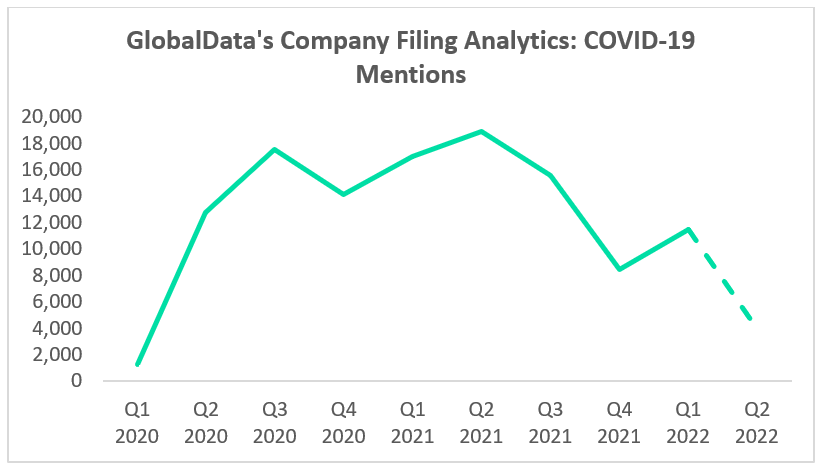 COVID-19 has increased the need for an active online presence to succeed as travel recovers. Stay-at-home orders led to digital acceleration with more consumers becoming adept at using technological solutions in everyday life. A GlobalData survey** revealed that in the last three months, because of COVID-19, 89% of global respondents indicated that they were spending time online in general. In comparison, just 11% of global respondents either reduced the amount of time spent online or never/stopped spending time online.
Uncertainties could temper recovery optimism
Furthermore, while a few nimble travel businesses have excelled during COVID-19, the turbulence and uncertainty of COVID-19 has created several challenges which are likely to complicate recovery. For instance, rising demand coupled with earlier layoffs and competition for talent with other sectors have resulted in widespread labour shortages in several economies such as the UK, the Netherlands, and Spain.
In addition, the interconnected nature of the tourism ecosystem, which sees hotels, airlines, car rental firms, tour operators, cruise lines and others dependent on each other along the traveller journey, means that bankruptcies or other disruption issues at any point along this chain has the potential to negatively affect the others. Nevertheless, the outlook for travel in many countries is brighter than at any time in the past two years.
*GlobalData Poll – Live, 235,086 Responses (Extracted June 15, 2022)
**GlobalData Q4 2021 Consumer Survey – 22,074 respondents