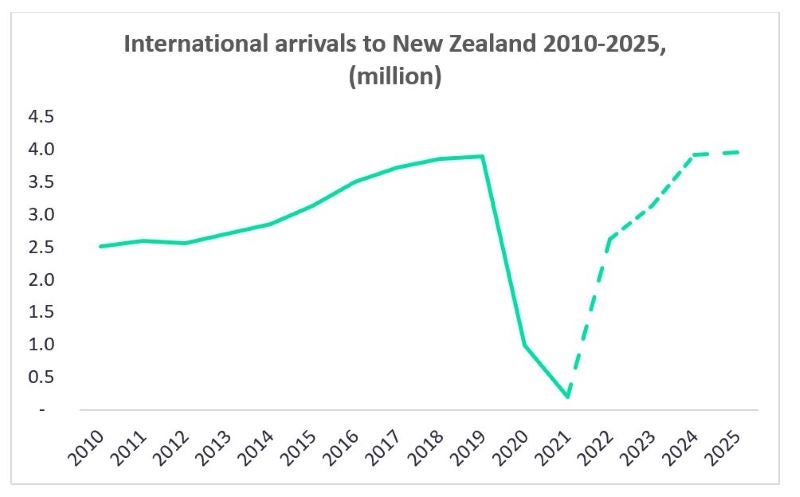 New Zealand is one of the last countries to open its borders, with international visitors welcomed from 2 May. However, long-term tourism recovery may be hindered as some of its main source markets are missing.
New Zealand reopens its borders
New Zealand is following in the footsteps of other Asia-Pacific countries, such as Australia and Singapore, in allowing quarantine-free travel for fully vaccinated individuals from 60 visa waiver countries, as it seeks to restore its tourism industry. However, tourists from non-waiver countries are still not allowed to enter, including from two of the country's top source markets in 2019, China and India, according to GlobalData figures.
The country has long been renowned for its breath-taking scenery and adventure tourism offerings such as hiking, bungee jumping, and skiing. Before the spread of Covid-19, international arrivals to New Zealand reached 3.9 million in 2019, accounting for more than 20% of New Zealand's foreign income and more than 5% of the overall economy, making tourism a valuable income generator for the country. But international tourism came to a grinding halt in 2020 after New Zealand imposed some of the world's toughest border restrictions. According to GlobalData, international arrivals plummeted by 74.4% year-on-year (YoY) in 2020 to 996,400, before declining even further in 2021 to just 191,400 as 'Fortress New Zealand' remained steadfast in the face of emerging Covid-19 variants*.
Chinese and Indian tourists are missing
As the first stage of its phased reopening, New Zealand welcomed tourists from Australia, the country's main source market, in April. On 2 May 2022, fully vaccinated travellers from 60 visa-waiver countries, including the US, the UK, and South Korea, which are all key markets for New Zealand, were also permitted to enter. However, most tourists from two of New Zealand's main source markets, China, and India, will be missing from the country's heritage sites, beaches, and cities until at least October.
India has risen to become a key source market for New Zealand, ranking sixth in 2019 with 66,800 international arrivals, following strong growth at a Compound Annual Growth Rate (CAGR) of 9.8% between 2015 and 2019, according to GlobalData figures*. India is a particularly valuable source market, owing to the propensity of visitors to engage in a high number of activities, according to Tourism New Zealand. Furthermore, in 2019, China was New Zealand's second largest source market, with international arrivals reaching 407,100 in 2019 (CAGR 2015-19: 3.8%), as per GlobalData's most recent figures*.
The absence of Chinese tourism may not represent a huge loss in the short-term as China is currently grappling with its most extensive coronavirus lockdown in two years amid a growing number of Omicron cases. However, if this policy remains in the long-term, the effects may be devastating as China and India constitute two of the world's largest outbound tourism markets and may seek alternative destinations amid prolonged travel restrictions.
New Zealand's reopening is a promising start
New Zealand's Tourism Minister has described this stage of the country's border reopening as a "big moment" in its reconnection with the world. Undoubtedly, the border reopening will help boost tourism ahead of New Zealand's ski season. However, the real test of how well the tourism industry rebounds will come towards the end of the year when the peak summer season begins in the Southern Hemisphere nation and the country continues its phased reopening.
*GlobalData Traveller Demands and Flows Database