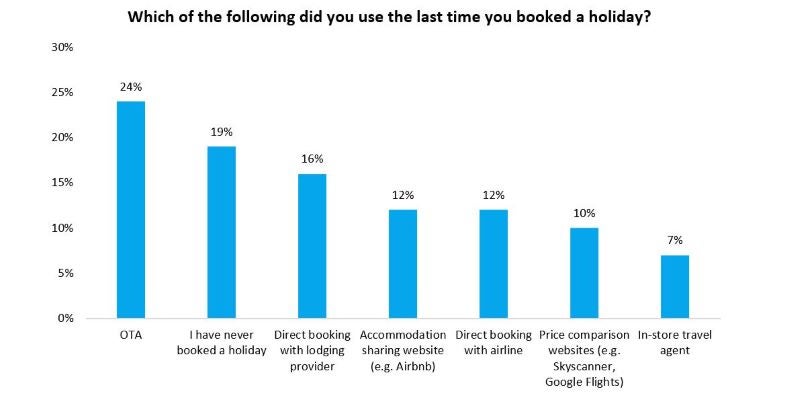 According to GlobalData's Q4 2021 Consumer Survey, 24% of global respondents stated that they used an online travel agency (OTA) when booking their most recent holiday.
This percentage was the highest out of all the other survey responses that could be selected. The largest OTAs, such as Booking.com and Expedia, rely heavily on their apps for booking generation, which shows that mobile apps are now vital for travel companies attempting to maximise revenue.
Apps can save time and money
Travellers can often save significant amounts of money and time by booking through travel apps, which is a key reason why OTAs offered the most popular booking service, according to GlobalData's survey. According to GlobalData's Q1 2021 Consumer Survey, 85% of global consumers stated that they are either 'somewhat', 'often', or 'always' influenced by product or services that align with time and money constraints.
Major OTAs offer one-stop-shop solutions through app offerings. When looking at Booking.com's app, users can book their whole trip in one location, with accommodation, flights, car rentals, taxis, and more being available to book through its app. Additionally, users can speak to customer service and property hosts, and even store travel documents there. This saves a considerable amount of time when compared to booking all aspects of a trip separately on a computer, then printing a range of different travel documents, which could create confusion.
When looking at Booking.com's app once again, users will often save money by booking travel services on this platform. The Netherlands based OTA encourages its accommodation partners to offer deals that drive app usage. Its website informs providers that by activating a mobile rate at their property, they can tap into a valuable and expanding traveller segment (app users). All partners must do is offer an exclusive discount of 10% or higher for mobile users. Once they have done this, a special badge will appear next to their property in search results and on their property page. This helps partners to enhance visibility and improve conversion rates. Booking.com stated that over half its reservations were made via a mobile device, which explains why hotels, apartments, and other lodging providers are content with offering sizeable discounts for app users.
An easy to use and innovative app is now vital for all travel and tourism organisations that aim to become leaders in their respective sector. Continued app usage increases the chances of users taking part in loyalty programs, which can then lead to customer relationships that last a lifetime.