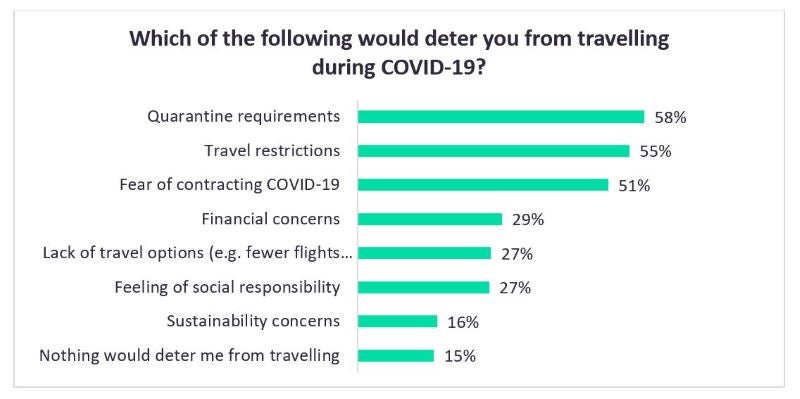 The Covid-19 pandemic has hit Hong Kong hard and brought tourism to a virtual standstill. Despite opening its border, mandatory quarantine requirements, that are likely to be in place for some time, and a lack of designated quarantine hotels (DQH) means there is little reason to expect arrivals to return to 2019 levels any time soon.
Inbound travel to Hong Kong well below 2019 levels
Hong Kong was once one of the most visited destinations worldwide, attracting 23.7 million international arrivals in 2019. As Covid-19 spread worldwide in early 2020, resulting in global travel restrictions, international arrivals declined by 94.3% year-on-year (YoY) in 2020 to 1.4 million. Inbound trips experienced a further decline of 93.7% YoY in 2021, falling to just 85,900 international arrivals, representing less than 1% of 2019 levels. The lack of international visitation has decimated the destination's tourism industry as inbound travel brought in $32.7 billion in 2019, which fell to just fraction in 2021 at $118.7 million.
In May 2022, Hong Kong opened its borders to tourists, with the stipulation that all arriving visitors are required to undergo seven days of isolation at a designated hotel. There is no doubt that Hong Kong reopening its borders was a step in the right direction. However, its ongoing mandatory quarantine requirements in a world that is opening up with greater ease will not place the city on the bucket lists of many leisure and business travellers.
Quarantine requirements deter tourists
Quarantine requirements deter tourists, according to a GlobalData poll, which revealed that 58% of respondents consider this a disincentive to travel*. The retention of a mandatory seven-day quarantine for arriving travellers will hamper recovery potential. However, the government is reportedly considering shortening hotel quarantine time for incoming travellers. While this decision would be a further step in the right direction, it is not enough to start the meaningful recovery of inbound tourism to Hong Kong. Those with urgent business matters or a need to see family members may be motivated to travel with shorter quarantine requirements. The hassle, length of quarantine, and the prospect of sudden re-tightening of Covid-19 rules will continue to keep leisure travellers from coming to Hong Kong.
Hong Kong's tourism revival is being further hindered by a limited number of DQHs. Even if travellers were keen to visit, they would have to compete for DHQ rooms, especially with hordes of overseas students now returning to Hong Kong for their summer holidays. While 15% of respondents reported that nothing would deter them from travelling, some holidaymakers wanting to visit Hong Kong may actually find it impossible*. Therefore, until mandatory quarantine requirements are completely removed, Hong Kong will continue to severely lag behind its competitors in terms of attracting visitation.
Hong Kong risks being left behind as a destination
At a time when other global regions have been welcoming hordes of tourists, largely only hindered by staffing deficits, Hong Kong will have to make do with encouraging its citizens to pivot towards domestic destinations. Without fully opening to tourism, Hong Kong risks essentially 'falling off the map' as an aviation hub, a place to do business, and a tourist destination. The city may also find it difficult to restore appeal, even as the Hong Kong Tourism Board starts its revival plan that highlights the city's vibrant developments and new experiences.
*GlobalData Poll (Ended on 18 May 2021, 1,361 Responses)