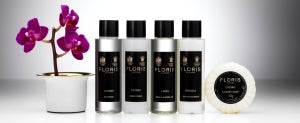 At Pacific Direct, we have recently launched the new Floris Black & Gold range. Featuring a collection of fragrances, this range is the perfect introduction to the historic perfume house of Floris.
Throughout its history, Floris has always responded to change, meeting the demands of fashion and style – it is this evolution of creativity that has ensured Floris' unique position in the world of fragrance today.
Fragrances within the range:
Shampoo, Conditioner & Soap all feature Cefiro: Lemon and lime punctuated with bergamot and mandarin are warmed by spicy notes of cardamom and nutmeg on a fresh floral jasmine heart that leads to a clean, musky woody base. Perfect for both men and women.
Bath & Shower Gel is scented with Limes: A vibrant burst of the zest of lemon accompanied by petitgrain introduces the refreshing heart of lime blossom, neroli and lily of the valley sustained by a musky base.
Body Moisturiser is perfumed with Seringa: Cool, radiant leafy green notes with a citrus twist lead to a fresh floral heart of jasmine, rose and ylangylang, warmed by soft spicy carnation in a harmony that is reminiscent of the scent of seringa flowers, also known as mock orange blossom.
Available in 30ml, 50ml, 75ml and 100ml bottles, 30g and 50g soaps and dispensers. Complementary accessories are also available.
Pacific Direct and Neal's Yard Remedies, a leader in ethical organic health and beauty have...