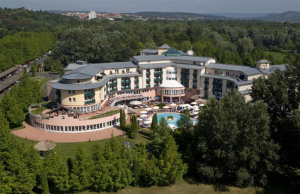 Germaine de Capuccini now offers its cosmetic products at the Lotus Theme Hotel & Spa. Welcome to a special place where you are warmly welcomed by the harmonious interplay of Hungarian hospitality and the charming atmosphere. Enter the Lotus Therme Hotel & Spa where, under the sign of the lotus blossom, old and new types of knowledge enter into a caring symbiosis and provide for your well-being.
Not only the architecture, but also the location of the Lotus Therme Hotel & Spa provides comforts. Only a few minutes on foot from the thermal lake of Hévíz, the Lotus Spa is fed directly by the curative springs. The water world, with large indoor and outdoor pools with nozzles and blasts, makes up the heart of the complex. Panoramic windows capture nature and create blurred transitions.
Shiatsu, Yumeiho, Lomi Lomi and Ayurveda are balm for the body and the soul. Fragrant aromas and regenerating sauna infusions provide for conscious respiration and purification. Discover the large sun terrace, which provides both heat and light for well-being. Those who would like to treat themselves to something special can enjoy wonderful, totally relaxed moments at the beauty spa. Come and discover the Germaine de Capuccini treatments.
The best of everything. Listening to your own rhythm, finally having time for yourself. At the centre of it all, enjoying, life and the wonderful luxury of being pampered.
The Bourbon Conmebol Convention Hotel is the first international headquarters of the Brazilian luxury hotel...