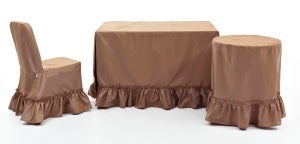 The brand new Four Seasons Baku has teamed up with Ingrid Lesage Creations for the decoration of its banqueting and conference rooms. The company's design team is always searching for creations that complement a room without competing with its beauty. Within the serene setting of the Four Seasons Hotel in Baku, the beaux-arts architecture was chosen as the dramatic focal point for the creation of soft furnishings for the banqueting and conference rooms. The revamped chambers now feature an earthy palette of bordeaux, ivory, khaki and beige and provide a rich backdrop for this engaged centre of activity at the border of the Caspian Sea.
Other Four Seasons venues that have recently undergone a complete makeover are Four Seasons St-Petersburg and Four Seasons Marrakech. On each occasion, the Ingrid Lesage Creations team was inspired by the 'couleur locale' of the destination resulting in irresistible creations… Like many others, these hotels have fallen under the spell of the company's collections – a treasure trove for accessible, practical and yet elegant high-end textile creations for the hotel world. Discover our collection of professional, tailor-made chair covers, table covers, high table covers, table linens, table and stage skirtings, conference covers, bed skirtings, bed covers, bed plaids, bed linens, uniforms, aprons and associated products at Ingrid Lesage Creations' website.
Ingrid Lesage Creations brings your interior to life with an inspiring collection of chair covers,...