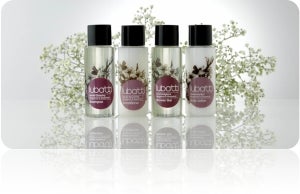 A sophisticated amenities range
Pacific Direct and Lubatti have created a partnership that offers a range of luxury hotel amenities that reflects the style and sophistication of the Lubatti brand. The elegant and timeless bottles with its beautiful packaging designs have been developed to compliment a luxurious bathroom setting.
The refreshingly scented formulations contain a rich blend of carefully chosen ingredients created to indulge hotel guests. Infused with an invigorating citrus blend of Bergamot & Grapefruit, the products will refresh and revive, and will be enjoyed by everyone.
A timeless collection of luxury skincare products
The story of Lubatti began in the 1920s with the original founder, Madame Lubatti, travelling to the Far East where she studied the benefits of fruits, plants and flowers and the benefits for the skin. It was here she developed her passion for skincare.
Eileen Malone, who first came to Madame Lubatti as a client soon became her protégé. She worked and trained under the guidance of Madame Lubatti, and later inherited her recipes which she in turn handed down to her own daughter, Tracey Malone. In 2009, Tracey together with entrepreneur Sharon Collins launced the Lubatti Collection, keeping alive Madame Lubatti's legacy. The Collection is a true representation of the original products, a celebration of Madame Lubatti's skincare expertise but also a reflection of everything she stood for: beauty, the benefits gleaned from nature, glamour and elegance.
Lubatti's company philosophy is to create, beautiful, effective skincare using only the finest of ingredients. Its hallmarks are the fruit, flower and plant extract combinations such as Mango & Avocado and Orange & Jojoba, its unique fragrances such as Tuberose & Mimosa and Bergamot & Grapefruit as well as the beautiful textures associated with quality. The products are designed to nourish, hydrate & rejuvenate the skin through its nutritious ingredients.
The Lubatti hotel amenities range consists of 30ml and 50ml bottles, 30g and 50g pleat wrap soaps and 300ml dispensers.
Pacific Direct and Neal's Yard Remedies, a leader in ethical organic health and beauty have...