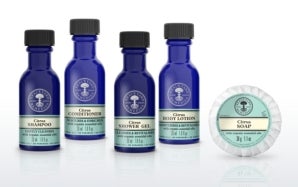 Pacific Direct and Neal's Yard Remedies, a leader in ethical organic health and beauty have partnered to create an exclusive amenities range. The Neal's Yard Remedies Hotel Collection truly reflects the brand's premium position in the market, using not only the iconic blue bottle (to keep the light out), but also the refreshing citrus fragrance formulated from a blend of 3 organic essential oils:
BERGAMOT – The fresh and sweet aroma lifts the mood like a breath of fresh air
LITSEA – A crisp citrus aroma with wonderful uplifting properties
MANDARIN – A sweet sparkling citrus aroma to invoke happiness and joy
The essential oils of bergamot, litsea and mandarin impart a zesty, citrus fragrance to lift the spirits allowing guests to indulge their skin and senses with this luxurious amenities range.
All products are free of mineral oils, parabens, synthetic fragrances or colours, silicones and phthalates.
The Neal's Yard Remedies Luxury Hotel Collection includes 30ml & 50ml bottles, 30g & 50g pleat-wrapped soaps and 300ml dispensers. Complementary accessories in white and green are also available to complement the range.
Neal's Yard Remedies – The Heritage
It all began in 1981 when Romy Fraser opened the Neal's Yard Apothecary where she sold herbs, essential oils and natural raw ingredients to locals interested in natural living. One of the distinctive features of the Apothecaries' trade was the blue bottles filled with herbs and potions and it's what Neal's Yard Remedies is still known for today. The brand became a real pioneer of the times, pushing against the synthetic chemical approach to skincare, beauty and wellbeing. The first shop in Covent Garden still stands and is still one of the busiest in the UK.
Neal's Yard Remedies Today
In 2006, the Kindersley family with a passion for the environment and organic living, bought Neal's Yard Remedies and set about building and expanding the brand. Neal's Yard Remedies believe that beauty is the outward expression of inner health and vitality. All of their formulations combine traditional organic plant extracts with the latest advances in ethical organic formulations to provide the most effective, organic and innovative range of ethical health and beauty products available.
Exclusive amenities rangePacific Direct and KMI Brands (who hold the license to market and produce...