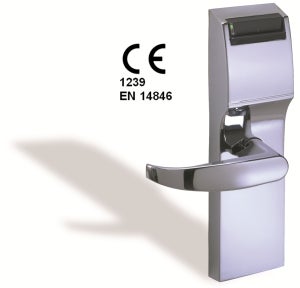 The Onity Europe, Middle East, and Africa (EMEA) manufacturing site in Spain has passed the testing required to obtain the European EN 14846 certification, making it the first global e-lock company with production in Spain to receive the newly compulsory accreditation. Onity is part of UTC Climate, Controls & Security, a unit of United Technologies Corp. (NYSE: UTX).
EN 14846, the European standard now required to market electronic locks in European countries, specifies test methods for strength, security, durability and functionality of electrical and electronic components for electromechanically operated locks and striking plates used on doors, window doors and entrance doors in buildings. The EN 14846 certification also focuses on the overall management of the company, evaluating practices such as the procurement of materials, manufacturing processes, accuracy of sales and technical documentation, quality control, shipping procedures and claims management.
"This distinction demonstrates our commitment to delivering products that offer the highest levels of security and quality available in the industry," said Borja Ibarrondo, general manager, Onity EMEA. "It is positive proof of our efforts to maintain the highest standards in quality, to seek continuous improvement of our processes and to deliver solutions that surpass our customers' expectations."
High electricity bills and environmental concerns are casting a spotlight on energy efficiency in the...