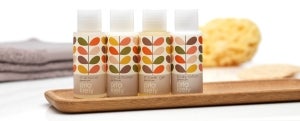 Exclusive amenities range
Pacific Direct and KMI Brands (who hold the license to market and produce Orla Kiely's fragrances, home fragrances and bath and body products) have partnered to create an exclusive amenities range. The range is a true reflection of the brand's Geranium Bath & Body range, using not only the distinctive stem print but also its unique unisex fragrance containing a blend of 10 essential oils. The luxurious formulations and beautiful scent including geranium, eucalyptus and clary sage will help relax and refresh the mind.
Michelberger Hotel, Berlin
The Michelberger Hotel in Berlin is the first hotel in Germany that truly stands for Orla Kiely. Not only do they present Pacific Direct's luxury hotel collection but also Orla Kiely wallpaper.
The creative world of Orla Kiely
Founded in 1995 by the Irish born designer as a way to express visually her love of pattern, colour and texture.
Her award-winning designs are quirky and sophisticated, with a retro feel.
Today, Orla Kiely has grown into a truly global brand, sold across 26 countries, including ready-to-wear, stationery, travel and homeware, as well as home fragrance and bath & body.
Unique and iconic prints
Orla's love for all things mid century has inspired her to create charming and uplifting prints.
The signature 'stem print' is instantly recognisable, offering a distinct identity and unique brand experience.
Her use of colours, combined with the distinctive prints, makes Orla Kiely one of the most individual brands in the world.
The Orla Kiely amenities range includes 30ml and 50ml bottles, 30g and 50g boxed soaps and 295ml dispensers. Complementary accessories are also available.
The liquid formulations are free from parabens and the soaps are free from titanium dioxide.
Pacific Direct and Neal's Yard Remedies, a leader in ethical organic health and beauty have...