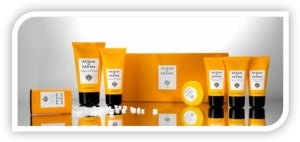 We are proud to be in partnership with Contractor Home for the distribution of the Acqua di Parma luxury hotel amenities line within the Middle East.
Designed to encapsulate a lifestyle of taste, quality and elegance, Acqua di Parma is classic, timeless and always contemporary: a 'way of life'. Launched in 2004 this prestigious range has been created to cater for the world's most exclusive 5*-7* luxury hotels and resorts.
Not diluted in any way, Acqua di Parma has used the same active formulas, the same active ingredients and the same packaging as the retail basic line – ensuring that only the best quality amenities are supplied to your hotels guests:
High quality product
Strong high end brand acceptance
Exclusive distribution
The Acqua di Parma hotel line fully maintains all the characteristics that over the years have contributed to making the name synonymous with Italian elegance, exclusivity, and use of natural ingredients.
The classic Colonia fragrance has always been a success, the light refreshing fragrance offered a refined elegance that was missing from Italy in 1916 – a true classic was born and still endures today. An uplifting scent of citrus, with notes of cedar and sandalwood Colonia suits both men and women.
Available in 40ml, 75ml and 150ml, with 50gm and 100gm soaps and complete with bath salts the comprehensive range will suit both modern and traditional environments.
Pacific Direct and Neal's Yard Remedies, a leader in ethical organic health and beauty have...