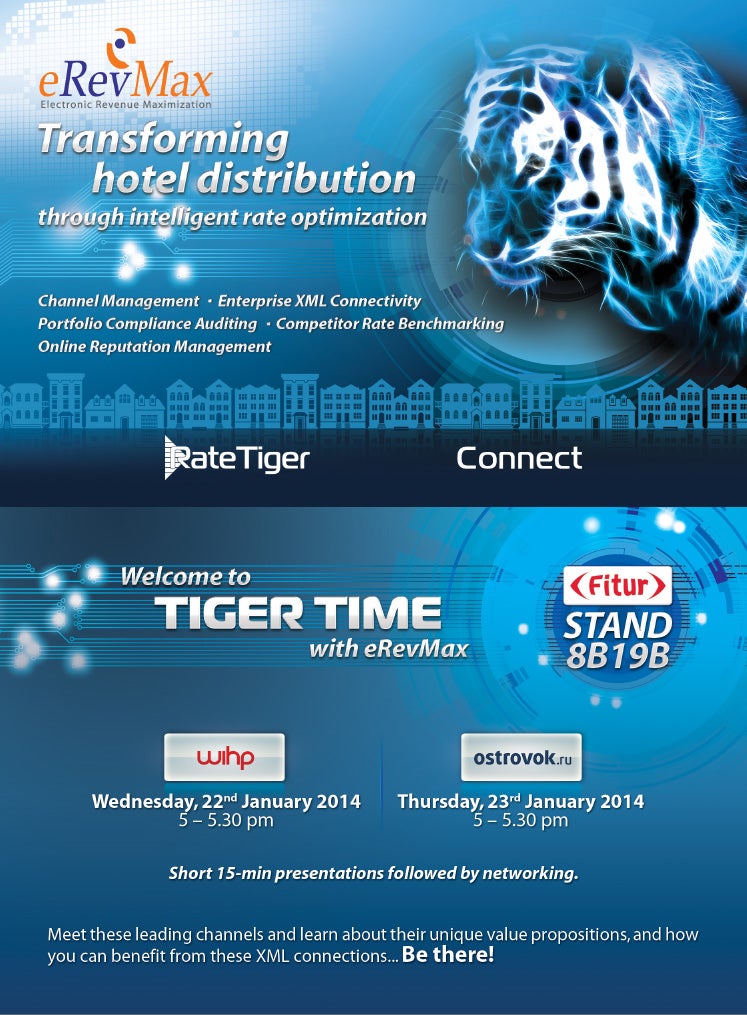 eRevMax, the hotel online distribution specialist, will be hosting TigerTime sessions at FITUR 2014 following its success with such networking sessions at various industry events. The company has partnered with WIHP and Ostrovok to present in Madrid, with an aim to provide hotels with new platforms for booking generation and gain meaningful distribution insights.
WIHP (World Independent Hotel Promotion) is an online marketing company that specialises in managing meta-search channels to help hotels get more direct bookings. With 1,300 clients around the world, the company has delivered an increase of more than 21% in direct reservations for their hotel clients. With meta-search becoming mainstream with the likes of Google Hotel Finder, TripAdvisor, Kayak and Trivago, this educational TigerTime will provide insight into how to engage with this up and coming direct booking eco-system.
Ostrovok, Russia's largest online accommodation provider and part of the eRevMax channel ecosystem, considers Spain to be one of its top growth markets. Their presence will help Spanish hotels gain insight into the wider distribution opportunities in the Russian travel market and help match available demand with relevant Spanish hotel products.
The TigerTime sessions are scheduled on the first two days of the event at eRevMax stand 8B19B from 5pm to 5.30pm local time. WIHP will be presenting on 22nd January, followed by Ostrovok who will lead the session on 23rd January.
eRevMax continues to develop and advance its channel management and connectivity offerings for hoteliers. Through its RateTiger and Connect product platforms, the company provides solutions for the independent market as well as tier one enterprise hotel groups. eRevMax's channel ecosystem facilitates quality certified connectivity and relationship management services to support complex revenue generation strategies through a vast variety of channels.