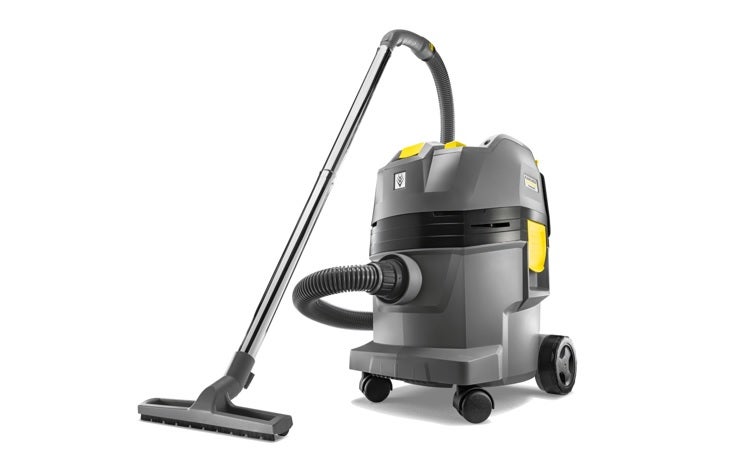 With the NT 22/1 Ap Bp L, Kärcher launches its first battery-powered wet and dry vacuum cleaner for professionals on the market. Whether used on construction sites, in workshops, hotels, offices or in the retail sector: the cordless vacuum cleaner shows its strengths wherever there are no or very limited sockets, wherever has to be cleaned quickly at alternating sites or wherever cables may become tripping hazards.
Thanks to the maintenance-free lithium-ion battery (36 V), up to 35 minutes of work can be carried out with the NT 22/1 Ap Bp L at full power. The user sees the remaining time on a LCD display at the battery. The battery can be fully charged again in just an hour using the BC 1/7 quick charger.
The use of battery-operated vacuum cleaners saves up to 20% work time compared to corded models. You no longer have to unplug and replug the vacuum cleaner when changing rooms or look for sockets, thus increasing efficiency. The tedious winding and unwinding of the cable is also a thing of the past. Another benefit: with no cord there is one less tripping hazard – particularly in places open to the public. This means that the continuing trend towards daytime cleaning with the battery-operated dry vacuum cleaner can be taken into account in a cost-effective and results-oriented manner.
The wet and dry vacuum cleaner is easy to transport and ideal for mobile applications thanks to its low weight of 8.7 kg and its compact dimensions. It reliably picks up liquids as well as coarse dirt or fine dust. The model is certified for dust class L; the flat pleated filter even achieves dust class M with a separation degree of 99.9%. The filter cleaning can be activated with a button on the machine: the suction power remains constant, whereas the air flow reverses and blows the dirt from the filter into the container – no need for tedious cleaning by hand. The moisture-resistant PES flat pleated filter lets you switch between wet and dry applications easily.
The NT 22/1 Ap Bp L is part of the new battery platform "Kärcher Battery Universe", which is constantly being expanded. It includes Kärcher machines from the Professional and Home & Garden area. The 18 and 36 V lithium-ion batteries supply energy between 2.5 and 7.5 Ah. A LCD display on the water-tight batteries (IPX5) shows the remaining runtime and remaining charging time. The heat buffering and sleep mode are processor-controlled. Together with the automatic cell monitoring, this protects the batteries and ensures a long service life.