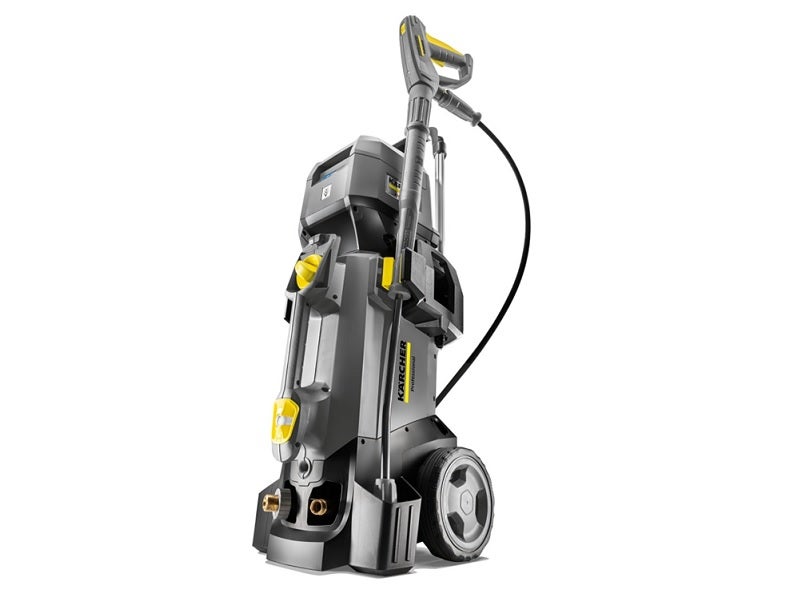 With the HD 4/11 C Bp, Kärcher extends the area of use of high-pressure cleaners for professional applications practically without limitation: with the battery-powered machine, work can be carried out independently of the mains power supply, which means that the search for a power socket or the installation of extension cables is now a thing of the past.
Thanks to the suction hose provided, even completely self-sufficient use is possible if alternative water sources, such as tanks, are used. The cold-water machine is used for example by building service providers, in the municipal sector and in the building industry.
Two 36-volt lithium-ion batteries, which are inserted at the top of the machine, provide the required energy. An LCD display shows the remaining runtime. In the energy-saving eco!efficiency mode, work can be performed for up to 30 minutes with one battery charge. With a working pressure of 110 bar and a flow rate of up to 400l/h, the cleaning performance of the approx. 35kg heavy machine is equal to that of mains-powered high-pressure cleaners of similar size.
The equipment of this battery-powered machine includes the EASY!Force high-pressure gun, whose trigger is pressed into the handle with the ball of the thumb and which has won several awards for its ergonomical handling. As a result, there is hardly any strain from holding after activating the gun. The recoil of the water stream pushes the trigger into the hand. The finger muscles are relieved and muscle cramping thus avoided.
The HD 4/11 C Bp is part of the new battery platform 'Kärcher Battery Universe', which is constantly being expanded. This also includes Kärcher machines from the Professional and Home & Garden ranges, whose batteries are interchangeable. The lithium-ion batteries are available with 18V and 36V and between 2.5Ah and 7.5Ah. An LCD display on the watertight batteries (IPX5) shows the remaining runtime and remaining charging time. The heat buffering and sleep mode are processor-controlled. Together with the automatic cell monitoring, this spares the batteries and ensures a long service life.