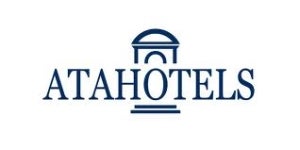 The customer
ATAHOTELS is an important Italian hotel chain that has been operating for over 40 years. It features prominently both in the business and tourist hospitality sectors. For several years it has been implementing a strategy strongly oriented to the psycho-physical wellbeing of its customers, by creating specific structures and services dedicated to relax such as beauty farms, spas and wellness centres. Taking care of customers' wellbeing also includes offering facilities for playing sports at the structure, with particular attention to golf.
ATAHOTELS' requirements
Atahotels expressed the need for the following:
Optimising use of central reservation office resources compared to the B2B segment
Gaining the most complete vision possible of its clientele
Communicating directly with the clientele
Promoting customer loyalty among the business clientele using simple and intuitive tools
Conveying a message of transparency with regard to the negotiated sales policies and the best rate available, making it available to the business segment as well
GP Dati's solution
The solution we identified involved creating a specific channel aimed at the corporate clientele: a privileged access in order to:
Make reservations according to the negotiated rate and at associated hotel
Have access to the best rate of the moment for all the hotels of the group
By structuring the reservation process in this way, the corporate clientele is able to autonomously plan dates, length of the stay and selection of the structures, using the negotiated rate or another available rate.
The system created by GP Dati enables Atahotels to:
Define a preferential communication channel with the corporate segment
Promote customer loyalty not only in terms of the single associated structure, but within the entire group, by offering a diversified range of services that are distributed throughout the territory
Adopt targeted solutions that may, in the long-run, guarantee relations with the clientele based on mutual trust
Optimise the reservation process in terms of the time required and quickness of the reply
Optimise occupancy performance and Revenue Management, by structuring the rates matrix according to the occupancy levels of the various structures
Always offer customers the chance to compare their negotiated rate with the best published rate, leaving them to choose the rate
Some details
From the user's point of view, the process constitutes a simple and intuitive booking procedure. It allows hotels to satisfy their needs rapidly, by using alternative communication channels with respect to email and telephone. This ensures considerable savings in terms of cost and time, besides being an practical, fast and easy way to communicate.
The process requires choosing the structure, dates, number and type of rooms to be reserved
It then continues with the confirmation of the reservation, the entering of mandatory data and acceptance of the private policy and sales terms
The reservation and confirmation email are then simultaneously entered into Scrigno without any manual intervention by the operators
The company making the reservation and the customer will receive a confirmation email or text message.
Cancellations can be forwarded directly from the B2B system homepage
The reservation will be simultaneously cancelled in Scrigno and the record's correspondence will be updated. An email / text message relative to the confirmation will be sent also in this case