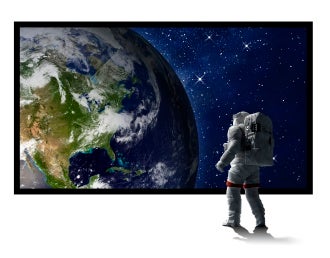 Projection screen specialist, dnp denmark, has launched the world's largest optical front projection screen available as a single screen solution. With an image area of up to 5.3m x 3.0m, equivalent to 240in in 16:9, and near flat-screen quality, the new Supernova XL Screen is designed to satisfy even the most critical audiences.
dnp VP global sales and marketing Soeren Kraemmergaard said: "Big is truly beautiful when it comes to display technology."
"The Supernova XL Screen's size and optical performance make it the ideal option for large venues such as big conference rooms, auditoriums and houses of worship. It's the cost-effective option too".
"We've designed the new screen to be visually impressive yet still affordable, with a smart shipping solution that saves cash and time."
The Supernova XL Screen features true optical lens technology that makes it possible to project crisp, high-contrast images without dimming the lights or pulling curtains. It employs the award-winning Supernova 08-85 screen material, a surface renowned for delivering best-in-class contrast and colour reproduction even in brightly lit environments. The extra-large image area is obtained by joining together two sheets of optical film. The viewing area appears virtually seamless in use. A specially designed framing system keeps the optical screen material tensioned.
Large screens can be expensive to transport and difficult to manoeuvre indoors, but not the Supernova XL Screen, which is designed to be rolled up during transportation. The screens are shipped in boxes of only 600mm x 425mm (length determined by screen height) significantly reducing transport and handling costs. Once on site, the screen can easily be assembled by two people in a couple of hours, depending on their skill level and the screen size. To complete the straightforward installation, the Supernova XL Screen is compatible with HD as well as 4K projectors.
The Supernova XL Screen is available in any aspect ratio and image size up to 5.3m-wide and 3.0m-high. The screen is supplied as standard with an 86mm-wide black frame. Frame options include black coating or black velvet for optimal light absorption.
---
Image: dnp denmark's new Supernova XL screen. Photo: courtesy of dnp denmark.