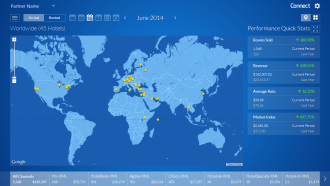 eRevMax, the leading hospitality technology and solutions provider of channel management and connectivity solutions, has today launched Analytics, the first of its kind business intelligence (BI) solution that gives hoteliers instant visibility into their business performance at anytime, from anywhere.
Hosted on eRevMax LIVE responsive-web platform, RateTiger and Connect Analytics transform data into real-time insight to help hotels measure and improve key metrics, including booking production, pace, competitive benchmarking, reputation monitoring and overall compliance to business plans.
Analytics has been designed in collaboration with revenue managers and brings key operational data together in a fully interactive dashboard and a rich variety of graphical reports. Compatible with desktops, laptops and tablet, this next-generation BI solution gives hoteliers a bird's eye view of overall performance, arming them with predictive insights and information to help optimise business productivity, costs and market position.
eRevMax CEO Michael McCartan said: "In today's extremely competitive business environment, it has become critical for our hotel clients to filter data meaningfully to detect problems, identify opportunities and respond to market dynamics. Our new solution combines eRevMax's extensive expertise in online distribution, intuitive benchmarking and deep analytical capabilities.
RateTiger and Connect Analytics reinforce our commitment to continually add value to our customers by delivering innovation and user experience, and provide greater effectiveness to drive optimisation and tighter alignment across their business."
RateTiger and Connect Analytics by eRevMax, powered with sophisticated analytical capabilities and interactive reporting dashboard, offers benchmarking on important parameters, obtain real-time production data, analyse gaps to give hoteliers a clear picture of their business. Both solutions are being offered as a subscription based module within RateTiger and Connect solutions. Key benefits include:
Real-time property performance
Reservation details by arrival and booked dates
Competition Analysis on various parameters including production
Market insights on rate and availability
Projected v/s actual revenue performance
Compliance alerts – parity, reputation, budget
Reputation score against competitors
---
Image: eRevMax launches Analytics. Photo: courtesy of eRevMax.