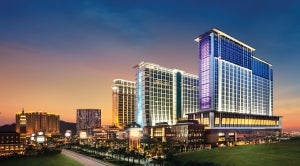 The Shine Spa at the Sheraton Macao Hotel has recently opened its doors with Germaine de Capuccini products and treatments.
Sheraton Macao Hotel, located in Cotai Central, Asia's Las Vegas, is the largest hotel in Macau. Offering the ultimate in comfort, sophistication and convenience, Sheraton Macao Hotel enables guests to make the most of Macau's diverse entertainment options, world-class shopping and rich cultural attractions.
Treat yourself to an indulgent spa journey at Shine Spa for Sheraton – the largest Shine Spa in Asia Pacific – where the very best Eastern and Western traditions are combined in a wealth of treatments that revitalise tired muscles and rejuvenate the spirit. At the Shine Spa you can receive the most exclusive treatments of the renowned Spanish professional skincare brand Germaine de Capuccini.
Pamper the body and reconnect with the soul in one of its 15 serene and welcoming treatment rooms where you'll experience sensational treatments inspired by the five elements of Feng Shui: wood, fire, earth, metal and water. Shine's Five Element Theory boosts vital energy, settles the spirit, and nourishes your core essence. Maintain your inner Zen for longer with a soothing pre- or post-treatment session in the Relaxation Lounge, where Shine Elements tea and a healthy beverage menu will help you feel cleansed and refreshed from the inside out.
Several Shine Spas are currently open and working with our products, and many more are under construction. You can find us in: Sheraton Guangzhou Hotel (China), Sheraton Xian Hotel (China), Sheraton Xian North City Hotel (China), Sheraton Shenzhou Peninsula Resort (China), Sheraton Hangzhou Wetland Park Resort (China), Sheraton Hohhot Hotel-Inner Mongolia (China), Sheraton Hiroshima Hotel (Japan), Sheraton Bali Kuta Resort (Indonesia), Sheraton Dammam Hotel & Towers (Saudi Arabia) and Sheraton Batumi Hotel (Republic of Georgia).
The treatments have been developed in conjunction with Shine Spas's preferred product partner, Germaine de Capuccini; and every Shine Spa will carry the Germaine de Capuccini range.