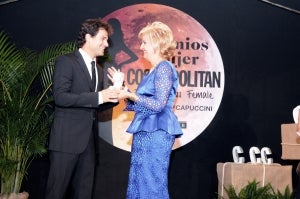 Germaine de Capuccini, the Spanish leading professional skincare company, recently participated as the sponsoring firm for the fifth edition of Cosmopolitan magazine's "Fun Fearless Female" awards.
The event gathered many well-known faces from the Spanish film industry, sports, television, music and fashion at the Hotel Ritz in Madrid. The handing out of the awards was conducted by the television presenter Tania Llasera, who invited on stage the winners and those in charge of giving the awards.
María Valverde was the first person to receive her award for the best film actress, and after her, Blanca Suárez for the best television actress, Raquel del Rosario for the best singer, Gala González for the best blogger, María de Villota for the best sportswoman and Rodolfo Sancho for the best television actor, who received the award from the president of Germaine de Capuccini, María Ángeles Vidal.
Others who also received the Cosmopolitan Award were Raúl Arévalo for best film actor, Tony Garrido for best presenter, Brianda Fitz-James and Diego Osorio for best style, Miguel Palacio for best designer, Mario Suárez for best sportsman, María Escario for Fun, Fearless, Female, Luis Tossar for Cosmopolitan Man, Alaska and Mario Vaquerizo for Cosmo Loves and Malababa for Female Entrepreneur.
Other important guests that posed at the photocall included Sandra Ibarra together with Juan Ramón Lucas, Blanca Suárez, Bimba Bosé, Carmen Chaparro, Silvia Alonso, Jesús Olmedo and Eva Amaral, among many others.
The audience was entertained by DJ Brianda Fitz James Stuart.
The awards party, which marks the fifth consecutive year of collaboration between Germaine de Capuccini and the Cosmopolitan "Fun Fearless Female" awards, was a complete success, bringing together some of today's most famous artists for an evening of entertainment and celebration.
---
Image: María Angeles Vidal gives an award to Rodolfo Sancho.