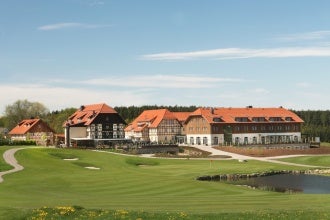 The Spa & Golf Resort Weimarer Land, a luxury hotel brand in Germany, has selected eRevMax to streamline its online distribution.
The Weimar-based property, a licensee of Lindner Hotels & Resorts, is using CONNECT by eRevMax to ensure real-time connectivity between the property and online travel agents, meta-search agencies, travel agents and corporate clients.
The solution enables the hotel to make immediate availability, rates and inventory (ARI) updates to multiple online channels, while at the same time, all reservations generated through these channels get delivered into their property management system (PMS) automatically.
Opened last year, the four-star superior Spa & Golf Resort Weimarer Land offers 94 rooms and a 36-hole golf course. The intense competition in the European hospitality sector has made it important for accommodation providers to optimise all demand sources. The revenue management team at the Spa & Golf Resort needed to focus more on revenue strategy rather than mere room and rate distribution, which was taking up too much time and resources.
CONNECT, a SaaS-based enterprise connectivity solution from eRevMax provides fully integrated, two-way XML connections to the world's leading online booking sites, helping properties of all sizes to maximise their online exposure through a network of online distribution channels. Spa & Golf Resort Weimarer Land can leverage seamless connectivity to maximise its revenue opportunity and reduce distribution costs by quickly and efficiently expanding their market reach.
Spa & Golf Resort general manager Mark A. Kühnelt said: "eRevMax solutions give instant control over yield management, allowing our properties to handle more product types while automating the distribution process. We were able to identify the best producing websites, while also improving our overall online booking."
eRevMax VP – sales, EMEA and APAC John Seaton said: "Connect by eRevMax helps the team at Spa & Golf Resort to increase online revenue by ensuring real-time room availability across all distribution points through automatic adjustment from pooled inventory. Presently selling on more than five channels, they can also utilise eRevMax's superior connectivity with over 100 global and regional distributors including OTAs, tour operators and wholesalers, to reach out to new markets."
eRevMax is developing its connectivity solutions to offer sophisticated, real-time revenue management functionality to the hospitality industry. This includes solutions for the independent market, the mid-market and scaling up through the large, global hotel groups.
---
Photo: The Spa & Golf Resort luxury hotel brand in Germany. Image: courtesy of eRevMax.