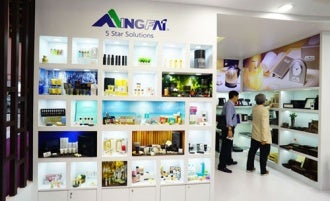 The 16th International Exhibition of Food & Drink, Hotel, Restaurant & Foodservice Equipment, Supplies & Services (HOFEX) was grandly held in the Hong Kong Convention & Exhibition Centre on 6 – 9 May.
2,400 exhibitors and 44 official delegations around the world proposed a spectacular exhibition of food, drink and hotel supplies to feast your eyes and palate on.
Ming Fai Group, a beautiful landscape of the exhibition, made its groundbreaking achievement in bringing out the new concept of 'five-star solutions' by cooperating with top brands in hotel supplies, which fully unfolds the comprehensive one-stop service ability to the world.
The booth this year not only expanded in space, but has also upgraded in design.
High-end guest room branded amenities
Ming Fai Group constantly upgrades the hotel amenities brands and has released four newly developed series in the exhibition.
Sea String, Funny Trip and All About You under the Pasión brand and M Spa series, accompanied with the internationally famous brands, which have already acquainted to the public such products as LANVIN, Borghese, Aquascutum, Culti, Aigner, and STORM, made it an indispensible visit to Ming Fai's booth.
Catering brands, flatter your taste
Ming Fai Group has licenced many catering brands to illustrate its guests a delicate quality life. Brands attended the exhibition were internationally famous brands such as WNK and Pama for stainless steel tableware, IVV, Spiegelau and WineStar for advanced crystal brands, Oneida and Libbey for high-end glass brands.
Guest room appliances form an intelligent hotel
Guest room appliances also performed a grand show as many renowned brands are presence, including safe box and refrigerator brand Bometic, health advocacy brand Lifesense, WIK, Philips, Solis, as well as intelligent technology appliances Linktech, the new multimedia charge station composed of Bluetooth music player and alarm clock functions, and the company's innovative brand aromatherapy equipment Aroma up heaved the show to a climax.
Hotel linen, comfortable and luxurious design
As for hotel linen and bedding protection products, Ming Fai exhibited the American famous brand Sobel Westex and the leading brand Protect A Bed.
Sobel Westex's unparallel quality, fair prices and its combination of hotel linen and soft outfit elevate the taste of a hotel. Protect A Bed's patented technology 'Bug Lock' bring the comfort experience to clients, while making the products breathable, waterproof, durable and protecting the mattress for a longer life.
Since March, Ming Fai has launched its 'five-star solutions' service concept, great response has been received.
As Ming Fai Group expands its comprehensive one-stop service in full-scale, more quality products and stellar service will be provided to its clients.
---
Image: Ming Fai's five-star solutions at HOFEX 2015. Photo: courtesy of Ming Fai.