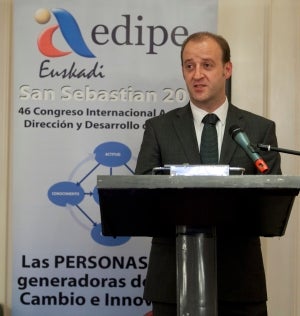 Onity, a world leader in electronic locking systems and solutions, has received the Asociación Española de Dirección y Desarrollo de Personas (AEDIPE) Human 2012 Award, recognising its successful initiatives in managing, motivating and empowering employees across multiple cultures to better serve the customer. AEDIPE, the Spanish Association for Managerial and Human Development, is a nonprofit organisation dedicated to promoting human resource activities within organisations nationally and internationally. Onity is part of UTC Climate, Controls & Security, a unit of United Technologies Corp. (NYSE: UTX).
The AEDIPE Human Award was created to identify the best strategic business and human resources initiatives, and is presented in three different categories: innovation, internationalisation and public sector / institutions. Onity won the distinguished internationalisation award for its excellent work managing cultural changes and its international focus. By implementing employees' ideas, Onity was able to increase its commitment to both customers and employees, and focus on delivering positive business results.
Achieving Competitive Excellence (ACE), a proprietary operating system used by Onity and United Technologies Corp., was a fundamental factor in obtaining the award because it provides a framework that empowers employees to better serve customers in diverse cultures.
"Onity has been focused on involving employees and increasing job satisfaction levels through communication, training, internal promotion and programmes, such as ACE," said Borja Ibarrondo, managing director, Onity – Europe, Middle East and Africa. "Employees are trained to use ACE and empowered to implement standard processes across the company. The programme helps ensure world-class quality in products and services with a focus on process improvement and efficiency."
"Onity employees are an essential and highly-valued pillar of our company's growth and future success. This award is a welcome recognition and validation that their efforts are significant and appreciated," Ibarrondo added.
---
Image: Borja Ibarrondo accepts the award on behalf of Onity.