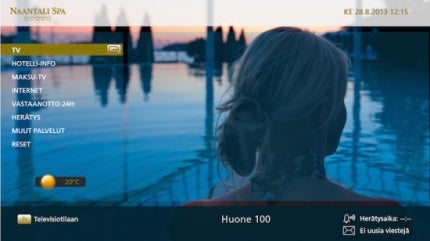 Hibox Connect is a hospitality solution made for hotels that want world-class status and to give guests a wonderful impression of their stay. As the system is fast to install and runs on set-top boxes, smart TVs and mobile devices, it is the optimal choice for those who value flexibility and a future-proof solution.
Hibox Connect Hotel TV solution comes fully integrated with various reservation, payment and maintenance systems.
Cloud or local installation of hotel TV
Hibox Connect Hotel TV solution can be used either from the cloud or from a locally installed server.
The smart TV in the hotel room can be connected to the internet using a wired or a wireless connection so no smart cards, set-top-boxes or server equipment is needed in the hotel.
In some cases a local installation of the server on location is a smarter choice. Hibox can help customers choose the best option according to their network infrastructure.
Branded hotel TV user interfaces
The look and feel of a user interface impacts how guests perceive information and entertainment. Therefore, Hibox designers will ensure that each hotel TV interface is branded with the customer's logos, fonts and colors. When the system is in use, all of the content can be customised in any way you want.
Extending hotel TV services to mobile devices
With the Hibox hotel TV service, guests can easily access a mobile web-application that gives access to hotel information, services and even live TV anywhere in the building.
By using the mobile app guests can watch different TV channels on the hotel TV and on mobile devices. They can pay the hotel bill and even checkout using the app. Furthermore, guests have the ability to order additional services such as room service and room cleaning directly from a smartphone or a tablet.
Mobile housekeeping application for hotel personnel
The hotel housekeeping application makes it easy for hotel personnel to report the cleaning process, minibar purchases made by guests and problems in rooms. Using the app is simple: when beginning the cleaning, simply select start and when the room is cleaned confirm it.
The user interface is clear and focuses on getting things done. Multiple cleaning sessions make simultaneous cleaning operations easy to monitor and report.
Hibox Housekeeper can be seamlessly integrated into a hotel's property management system (PMS) in order for the housekeeping personnel to register minibar purchases made by guests.
Hibox Systems provides advanced interactive information and entertainment solutions for the hospitality industry. The company's Hibox HotelTV product is one of the most modern and advanced TV systems used in hotels today. Hibox HotelTV is technologically modern yet cost-effective, easy
Hibox has won its first customer in the Middle East. Nuetel Communications, a national triple play telecommunications operator in Bahrain, has chosen the Hibox IPTV middleware solution to expand its IPTV offering with new services such as VOD, EPG and Network PVR. Nuetel will utilise Hibox's flex