Adria Scan
Identity Management Scanners and Software Solutions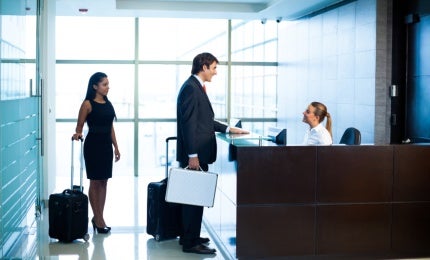 Adria Scan specialises in developing and implementing software solutions in the hospitality and leisure industry to enhance guest services. The ID Reader enables the automatic transfer of textual data and images from personal and travel documents into hotel property management systems (PMS) within a few seconds.
Passport scanning solution for the hospitality industry
ID Reader is based on image processing and optical character recognition (OCR) technology, which:
Reads all passports made by international ICAO 9303 standard
Reads ID cards, drivers licences, health cards, various membership cards (ICAO and NON ICAO)
Reads special characters (Š etc.)
Reads more than 2,000 document worldwide
ID Reader has an official interface with most of the major hotel property management systems such as Opera, Fidelio and Protel. Where an official interface is not available, Adria Scan's keyboard emulation solution, Plug'n'Scan, can be easily implemented.
Advantages of PMS-integrated scanning technology
ID Reader ensures automation of business processes and increases overall service quality level.
Benefits of the ID Reader include:
Scanning process starts from existing hotel PMS
Time saved – faster data input results in higher productivity of the front office
Increased accuracy – reducing human typing errors
Higher security level – saves protected guest document and face image in database
Cut costs – digitalisation of personal documents, no need for photocopying
Innovative scanning devices
ID Reader software uses high-quality scanners of small dimensions, which are specialised for scanning large number of documents in a short time period. Scanners represent an ideal solution for receptions and front office business with client registration.
Back office software solutions
Adria Scan back office solutions are specifically designed for recording and archiving guest details in hotels and resorts. Among other functionalities, it contains various interfaces for reporting guest details to governmental institutions worldwide.
Security is Adria Scan's concern. The company ensures that images delivered from its systems are protected and kept safe.
About Adria Scan
Adria Scan was founded 2006 in Zagreb, Croatia. Since then, the company has been continuously growing and becoming one of the most trusted providers for identity management software solutions and services worldwide.
Software solutions are based on the most innovative ideas and the latest technologies that ensure faster business processes, enhanced business quality and the highest security standards for the company's customers. Adria Scan's clients include organisations in the areas of hospitality, security, finance and telecommunications.
Adria Scan solutions are currently used in more than 45 countries around the world, with more than 1,000 systems deployed.
Please use the contact form to submit your business enquiry. Adria Scan's sales team will contact you as soon as possible.