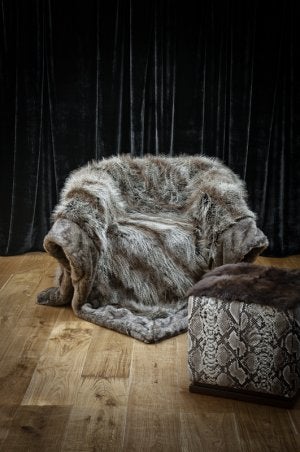 What image does a five star hotel conjure up?
The most uncompromising luxury and peacefulness with plenty of up-to-the-minute amenities, pampering in luxurious surroundings, home for the discerning modern traveller, indulging yourself, uncompromising attention to detail, satisfying the most demanding tastes…
All these are expectations of a luxury hotel, the environment it creates and the service it offers.
This is what the La 'Savane de Mayfair' collection can offer the discerning customer.
Luxury and quality of product combined with practicality, accessibility and value.
The very best faux fur throws or sleek golden throw / shawl in the best fabric, of the highest quality, with an uncompromising attention to detail.
This makes basic products unique, desirable, marketable and exciting.
La 'Savane de Mayfair' collection evokes a moment of calm in the modern world. A collection that indulges your sense of luxury with every detail.
Fabric walling can be designed to offer either a casual or a formal look. It...