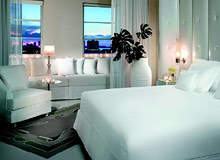 Morgans Hotel Group, originator of the boutique hotel, is undertaking a host of design-led projects under the direction of newly appointed vice president of design Mari Balestrazzi. The company is also overhauling a number of its leading hotels, including the Shore Club in Miami, the Mondrian in Los Angeles and the Sanderson in London.
This new direction effectively severs Morgans' ties with Philippe Starck, who defined the look of much of Ian Schrager's hotel empire. But how much of a departure will it really be? Can the company maintain its unique style in the face of an ever expanding remit? And does 'boutique' actually still mean anything?
What were you doing prior to joining Morgans and what about the role appealed to you?
I had been director of design for Starwood's St Regis Hotels for three years. Prior to that, I was director of design for Aero Studios. That was where I worked on the first hotel, Sixty Thompson, a 100-room boutique hotel in Manhattan. I was headhunted for Morgans, which is always flattering, but what made the real difference in accepting the position was the company's obvious commitment to design at the highest level.
It's a pretty rare opportunity to be in an organisation that supports, understands and displays real commitment to design and innovation.
Why was it time to change the look of the hotels?
Our guests expect to see something new, something different; it's what they come to our hotels for. I don't know if it's a question of changing the look per-se, because we don't think of our hotels as looking like one another. For us, the hotels are a collection of unique properties that are geared towards their location, the market and the guest profile of that area. A Miami demographic will be very different to a London demographic, and the hotels reflect that.
And does this reflect a shift in popular tastes?
It's not about a difference in taste. It's more a question of understanding that the expectations of guests have changed and what was defined as luxury ten years ago is not good enough now. Technology has changed too, so amenities need upgrading.
So you are staying very close to the original designs?
In all cases we try to respect the DNA of the existing property. People have come to know and love our properties and feel very connected to them. With the Delano in Las Vegas, the approach was to 'keep it Delano', only better. We are at the highest tier of the luxury segment and we really needed to take the property forward to keep up.
You have assembled an impressive roster of designers. What was the selection process?
"We are always looking for innovators and are not tied to people who have designed hotels in the past."
In some cases, they were already with the company – other times we recruited them. We are always looking for innovators and are not tied to people who have designed hotels in the past; the first two hotels the company ever did were designed by people with no hotel experience [Andree Putman and Philippe Starck].
Are there any projects underway that are particularly exciting?
The Delano and Mondrian developments in Las Vegas – the largest projects the company has ever undertaken. The Delano will be over 400 rooms and the Mondrian approximately 850. They're our first 'ground up', new build constructions. We're entering a new marketplace and the city sees us as offering something it doesn't yet have. Visitors to Vegas are aching for this.
Can you retain your core values over such a large scale?
I think that the concept is scalable. It's still about working with the best designers, and design does not lose its power and effectiveness when it gets larger.
Is there an added pressure being the originator of the boutique concept?
We do need to stay ahead of the game. This group is the originator of the boutique concept, so we will always be the people to beat. It's one thing to try and ape a particular aesthetic, but there's a sensibility here, supported at the lowest and highest levels, which transcends mere design and contributes to this overall sense of 'boutique'.
With the larger hotel brands talking about 'the boutique experience', has the concept been devalued?
I don't know whether a large corporation can really develop 'boutique' in the way that we do. Boutique is much more than an aesthetic. It's a complete ethos, from the way the guest is greeted at the front door to the way the rooms are turned down to the unique twists you see in each room. We are still involved in every decision and every property is still very different. There isn't a standardised programme that we can just roll out. A larger company can't provide that kind of tailored approach.
A lot of people have taken the term and tried to apply it to other things, but in my opinion they are misappropriating the word. We still use the term 'boutique' because it is part of our ethos. I don't mean that as a top-down thing; it's what we truly believe. I don't think boutique will ever go out of fashion, but people do need to be reminded of what it actually means.