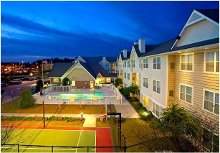 StepStone Hospitality, a Providence-based hospitality management firm, has expanded its managed hotel portfolio with the acquisition of two Marriott properties in Baton Rouge, Louisiana.
The two properties are the Residence Inn by Marriott Siegen Lane and the Courtyard by Marriott Siegen Lane. Both hotels are owned by a joint-venture partnership that includes StepStone Hospitality.
With the acquisition of the hotels, StepStone's managed properties portfolio rises to ten hotels and the number of managed rooms rises to more than 1,700.
AppATrip, a mobile application wholly-owned by Coeus Solutions, has introduced a new tool, EasyReview, that allows hotels to collect and manage their guest reviews and act accordingly to manage their online reputation.
The tool is available for the smartphone and tablet version of AppATrip and as a web application on hotel websites.
Hotels can preset their questions for review by guests and then check the reviews before publishing and exporting to Google. Besides text reviews and star ratings, the tool has the ability to collect customer feedback through videos.
BEST WESTERN, a brand of Arizona-based hotel chain Best Western International, has opened its fifth hotel, BEST WESTERN Art Hotel Nikolaevsky Posad, in Russia.
The three-star property contains eight two-storey buildings covering two blocks. The 133-room property has 46 superior rooms in the main building and around eight to 11 suites in the other buildings. Each hotel room offers free Wi-Fi, a mini-bar, bathrobe and slippers.
Best Western international operations vice president Suzi Yoder said: "Our pipeline in Russia has additional projects in Ivanovo, Zelenogradsk and Kaluga and highlights our commitment to continue to grow the brand in Russia as well as the other CIS countries."
Hyatt Place, a brand of Hyatt Hotels Corporation (HHC) with more than 170 locations throughout the US, has signed an agreement to form a joint venture with real estate developer FSA Group, part of Libra Group, to develop nine Hyatt Place branded hotels in Brazil for around $270m.
The new hotels, which will help meet the growing demand for accommodation in Brazil, will be built in important cities and towns in urban, suburban and airport locations that have established commercial and industrial infrastructure.
They will feature 150-200 guestrooms that will be equipped with the Hyatt Grand Bed and Cozy Corner sofa-sleeper. The hotels will also have meeting spaces and will give guests 24/7 access to meals and amenities.
Britannia Hotels, a UK-based hotel company with 43 hotels and more than 8,000 bedrooms nationwide, has expanded its presence in Scotland with the purchase of Travelodge Edinburgh West End, with a guide price of £10m.
Cordial Hotels, which leases its hotels to Travelodge, was helped by specialist property adviser Christie + Co to sell the 178-room Edinburgh hotel.
Travelodge Edinburgh West End hotel is the fifth of six Travelodge properties to be sold by Christie. The other Travelodge properties sold by Christie on behalf of Cordial Hotels include hotels in Oldham, Coventry, Stevenage and Bath.
Carlson Rezidor Hotel Group, a global hotel management company previously known as Rezidor SAS, intends to open 38 new hotels in India as part of its strategy to have 100 hotels in the country by 2015.
The hospitality group has four hospitality brands in India – Radisson Blu, Park Plaza, Country Inns & Suites by Carlson and Park Inn by Radisson – which cater for mid-scale to premium segments.
Carlson Rezidor currently operates 62 hotels in the country and has more than 14,000 employees. As part of the expansion, the company plans to hire around 9,000 people.
InterContinental Hotels Group (IHG) is set to expand its presence in the UK with the opening of three new Holiday Inn hotels.
The three new properties are Holiday Inn Huntingdon – Racecourse in Cambridgeshire, Holiday Inn Glasgow Green in Scotland and Holiday Inn – Watford Junction in Hertfordshire.
The company has signed a franchise agreement with HP Hotels, which also owns Holiday Inn Express Nuneaton, to operate the Holiday Inn Huntingdon – Racecourse, a 98 room hotel scheduled to open in the third quarter of 2013.
IHG has also signed franchise agreements with Nine Hospitality and VDL Management to manage Holiday Inn – Watford Junction and Holiday Inn Glasgow Green, respectively.
Starwood Hotels & Resorts Worldwide will expand its business in China with the opening of 20 new hotels in the country in 2013.
Having opened its first international hotel, Sheraton Great Wall Beijing, in China in 1985, the company currently has a portfolio of 120 hotels in the region and another 100 in the pipeline.
China is currently the second largest hotel market for the company after the US. In 2012, Starwood opened 25 hotels and signed 36 new deals in China, making it the fastest growing traveller market for the company.