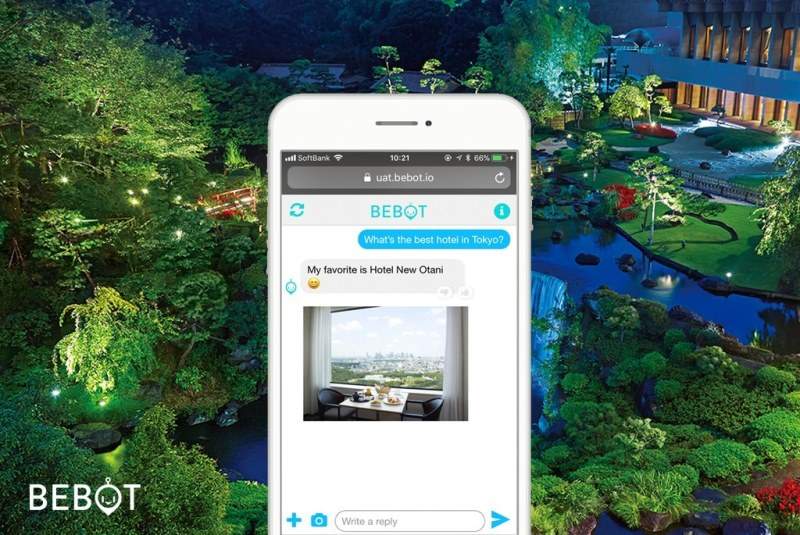 New Otani Hotel has launched artificial intelligence (AI) chatbot service Bebot at Hotel New Otani Tokyo in Japan.
The chatbot service, which is available at Narita Airport and Tokyo Station, is offered at the hotel in English and Chinese.
Ahead of the 2020 Olympics, the hotel plans to launch the AI Bebot concierge for all its guests. The service can be availed on mobile devices by scanning a QR code. Further, the chat service can be used on any browser, without requiring any more downloads.
Opened to coincide with the Tokyo Olympics in 1964, the hotel is located in central Tokyo.
The New Otani Tokyo is home to a four century old Japanese garden and built on the site of the former residence of samurai lord Katō Kiyomasa.
It was initially famed for its revolving restaurant. It also served as the location for the 1967 James Bond film, "You Only Live Twice."
Following renovation in 2007, the hotel has 1,479 rooms and 38 restaurants. After the launch of the chat service, guests can information on the hotel's facilities and services right on their own personal mobile device. Further, Bebot will offer information on important destinations and routes in the city.
Claimed to be Japan's first hotel chatbot, Bebot has been developed using both human chat services and AI developed by Bespoke.
Bespoke founder and CEO  Akemi Tsunagawa said: "We are delighted to launch Bebot at this most iconic of hotels and provide their guests from around the world a convenient service to help them navigate Tokyo much easier."
This service enables guests to make requests for recommendations, reservations, and services. They can also ask specific questions through chat, and then receive tips, directions, and reviews – all without leaving the chat window.