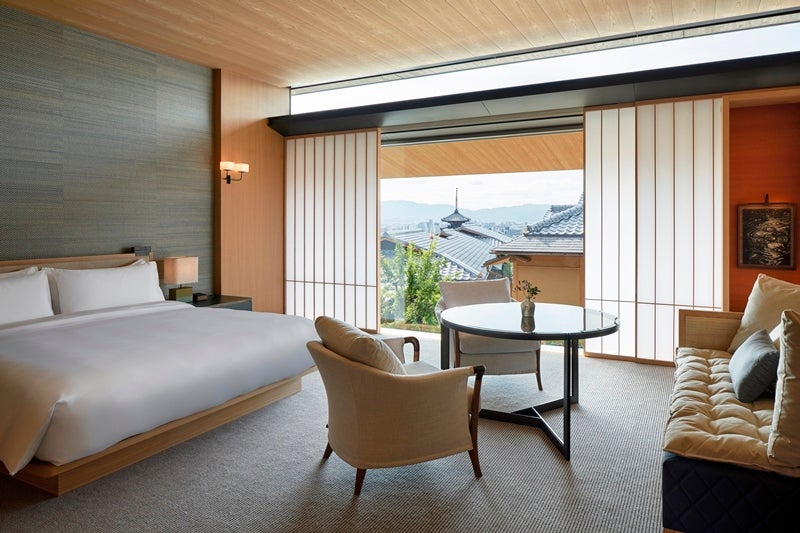 American multinational hospitality company Hyatt Hotels is celebrating the opening of second Park Hyatt hotel in Japan in 25 years.
Park Hyatt Kyoto is a 70-room luxury guesthouse located in the historic districts of Higashiyama hills in Kyoto.
The low-rise hotel, which also includes nine suites, has been co-developed by Japanese architecture, engineering, and construction firm Takenaka and interior design firm Tony Chi and Associates.
The hotel features 'traditional Japanese design, architecture and artisanal craftsmanship'.
Hyatt Asia Pacific group president David Udell said: "We are delighted to celebrate the opening of Park Hyatt Kyoto, the second Park Hyatt hotel in Japan in 25 years, and to offer guests a refined home-away-from-home in this remarkable city.
"We are grateful to the hotel's owners, Kyoyamato and Takenaka Corporation, for their trust, support and deep understanding of luxury hospitality. Park Hyatt Kyoto is a celebration of Japanese harmony and tranquillity and we look forward to seeing guests immerse themselves in the city's inspiring heritage and culture."
Park Hyatt Kyoto has four culinary venues, namely Kyoto Bistro, The Living Room, Yasaka and Kohaku. These offer international and Japanese food and beverages for its guests and visitors.
The hotel features a ballroom with 2,153ft2 space for events, and "multi-functional meeting facilities, a show kitchen, foyer and the latest audio-visual system".
It also has a spa and wellness centre, which can be accessed by staying guests. The site has also preserved and restored a number of historic buildings, as well as an Edo-era teahouse and the Japanese garden.
Park Hyatt Kyoto general manager Mark de Leeuwerk said: "We are excited to introduce the Park Hyatt brand of personal and exceptional hospitality in a special place like Kyoto and look forward to unlocking the unique character of Japan's ancient capital of high arts and craft. It has been a privilege for us to work closely with our neighbours in Higashiyama as well as the artisans and craftsmen of this beautiful city."