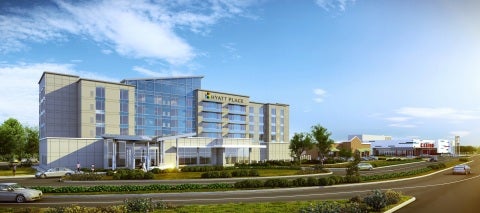 An affiliate of Hyatt Hotels has signed an agreement with Island Hospitality Partners, a joint venture of PRISA Group and McConnell Valdes Consulting, to build a Hyatt Place hotel in Manatí, Puerto Rico.
Island Hospitality is also the owner of Hyatt Place Bayamón Hotel & El Tropical Casino in Puerto Rico, which is expected to open in 2014.
Expected to open in early 2014, the five-story Hyatt Place Manatí will feature 104 rooms, a 11,500ft² casino and a free-standing casual dining restaurant.
Pat McCudden, Hyatt Hotels & Resorts real estate and development senior vice president, said they are happy to partner with Island Hospitality for a second Hyatt Place hotel project in Puerto Rico.
"We believe that the Hyatt Place brand and the location of the hotel in Manatí will have strong appeal to business and leisure travelers visiting the region," McCudden added.
The hotel will offer facilities and amenities, such as The Gallery – a social area with a coffeehouse, an e-room with complimentary computer access and printing, guest kitchen and a café.
All the guest rooms will have Hyatt grand bed, an eight-foot sectional sofa sleeper and flat panel TV.
Guests will be served daily with complimentary full breakfast, besides being offered a 24/7 menu with fresh made meals and appetisers.
The café will serve specialty coffees and teas, premium beer, wine and cocktails.
Flexible meeting space, a 24-hour fitness centre, outdoor swimming pool and free Wi-Fi are the other amenities offered by the hotel.
At present, there are over 165 Hyatt Place hotels in the US, with more than 35 Hyatt Place hotels under development throughout the US, Europe, the Caribbean, China, Latin America, Southwest Asia, and the Middle East.
The first two Hyatt Place hotels outside the US – Hyatt Place San Jose Pinares in San Jose, Costa Rica and Hyatt Place Hampi in Hampi, India – are scheduled to open later this fall.
PRISA is a developer and builder of green residential communities and resort hospitality projects in Puerto Rico and Florida.
McConnell Valdes Consulting is specialised in the planning, financing, development and marketing of hospitality and mixed-use real estate projects in Puerto Rico.
---
Image:Hyatt Place Manatí is scheduled to open in early 2014. Photo: courtesy of Hyatt Hotels Corporation.