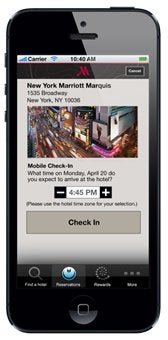 Marriott Hotels, a brand of Marriott International, is to introduce a mobile check-in option at all of its 325 hotels in the US and Canada in summer 2013.
The mobile check-in feature, which is currently being used at 31 Marriott-brand hotels, is part of the free Marriott mobile app that makes check-in simple.
The app allows Marriott Rewards members to check-in after 4pm the day before arrival and get automatic notification about their room status.
As the members' credit card information is already stored in the Marriott Rewards profiles, they just need to take the pre-programmed key card to enter their booked room.
Marriott Hotels brand management senior vice president Paul Cahill said that during the development and testing of the app and mobile check-in, Marriott asked customers for their feedback in order to perfect the experience.
"Our frequent guests told us they wanted mobile check-in first, using their smartphones, to be widely available," Cahill added.
"That is what we are delivering as Marriott Hotels continues its journey of envisioning the future of travel for the next generation."
According to Hudson Crossing, a consulting firm, around 80% of the emerging Gen Y travellers in the US own smartphones and travellers in general are more likely to own mobile devices.
The company is further carrying out new experiments at its mobile incubator hotels to add checkout and guest service requests option in its Marriott mobile app.
In future, Marriott also plans to expand the mobile guest services beyond the US and Canadian borders.
---
Image: The Marriott mobile app is available in the Apple iTunes Store and Google Play for free. Photo courtesy of Marriott International, Inc.