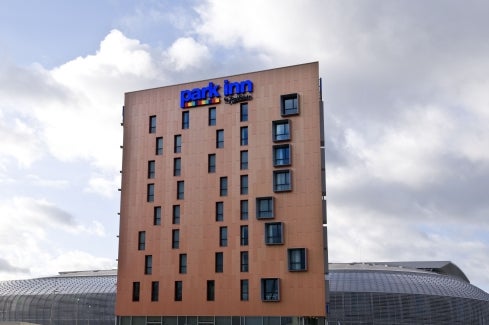 The Rezidor Hotel Group has opened the Park Inn by Radisson Lille Grand Stade hotel in the city of Villeneuve D'Ascq in northern France.
The group expects the hotel to benefit from its location adjacent to the Grand Stade Lille Métropole football stadium, which is scheduled to host the LOSC Lille Metropole football club, and the 2016 UEFA European Football Championship.
The presence of several large companies in the region is also expected to boost the hotel's prospects of holding business meetings and conferences.
The new hotel includes two meeting rooms, while the stadium itself offers conference rooms and a 230-seat auditorium for conferences.
Rezidor Hotel Group president and CEO Kurt Ritter said, "The triangle of Belgium, Luxembourg and northern France is an important cluster zone for Park Inn by Radisson, and we aim to further strengthen our presence in this area."
The Park Inn by Radisson features 127 rooms, many with views of the stadium.
Rezidor operates two more Park Inn hotels in France, in Paris and Nice, in addition to 16 Radisson Blu properties.
In October this year, the group announced its decision to exit the lease agreements of five Park Inn hotels, a Radisson Blu and an unbranded hotel in the country, as the properties are located in "secondary locations" and have proved to be "consistently unprofitable" for the company.
"The decision to exit these hotels was made after determining that the hotels' financial situations were unlikely to turnaround and their positioning and locations are not commensurate with the future direction of the brands," the group said in a statement issued during the announcement.
The seven hotels will continue to be operated under the existing brands for the next few years or until the owner, Hibernia France, sells them.
---
Image: The new Park Inn by Radisson Lille Grand Stade hotel is located adjacent to the Grand Stade Lille Métropole stadium. Photo courtesy of The Rezidor Hotel Group.