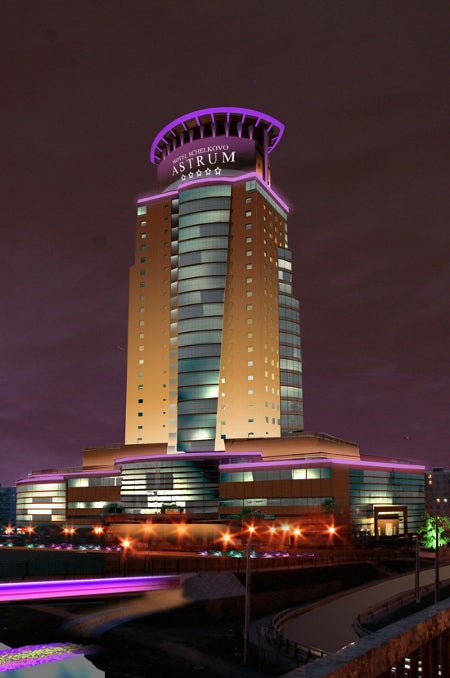 Vienna International Hotelmanagement is set to open a 5-star Astrum luxury hotel in Shelkovo near Moscow by the end of this year.
Shelkowskij Holding is the owner of the 27-floor high-end hotel, which has already been accepted for membership in the hotel alliance of The Leading Hotels of the World.
The Astrum Hotel Shelkovo, which will feature a 3,400m² spa and a 1,900m² conference area with seven separate event rooms on three floors, will be ideal for wellness holidays and conference tourism, claims the company.
A 335m² conference hall with amphitheatre seating, a 600m² event room and five large meeting rooms will allow the hotel to hold events for up to 1,000 people.
The private spa suites and saunas in the hotel will offer a range of beauty and minor medical treatments.
An Ayurveda centre, with a team of physicians and specialists from India to offer guests a range of Ayurveda treatments, is also planned within the hotel.
The hotel will also feature a Japanese restaurant with a show kitchen and a French à-la-carte restaurant with a capacity to accommodate 44 people, along with a sky bar on the 23rd floor.
Other facilities will include a fitness lounge, a lobby bar, an exclusive VIP club, a rooftop heliport as well as a private butler service.
Italian arts craftsman and designer Francesco Molon has created Astrum Hotel Shelkovo's interiors.
Vienna International CEO Dr Andreas Karsten said: "We expect that the hotel will become a new landmark with corresponding appeal in the greater Moscow region."
Shelkowo Holding CEO Dmitry Barchenkov said: "The hotel is an important prestige object for the region around Moscow, helping to boost the international profile as well as improving the infrastructure and employment situation in the Shelkovo region."
---
Photo: The 27-floor hotel is currently being built in Shelkovo, near the Russian capital. Image courtesy of Vienna International.