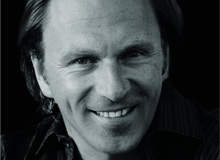 Claus Sendlinger's Berlin-based Design Hotels agency, of which he is the CEO and president, represents over 150 of the best contemporary hotels and gets bigger every year. Only 15 years after Design Hotels began, Sendlinger has emerged as one of the most astute minds in the business. Travel bibles like Condé Nast Traveller regularly list the affable and charismatic German as one of the industry's leading trend-spotters while aspiring design hotels vie for his seal of approval.
"Many people use design just as furniture rather than as a company philosophy," says Sendlinger. "Number one is a consistent architecture and interior design concept. If it's over-proportioned or too small or extreme then they are knocked out at the first stage."
There are no specific criteria. Sendlinger looks for style and attitude. Conformity is not on the menu. One of his past signings, The Outpost, a luxury, hilltop eco-lodge in Kruger National Park, South Africa, blends with its stunning surroundings by being entirely open to the elements, sheltered only by a roof.
A touch of eccentricity also helps. Semiramis in Athens is a typical Design Hotel, complete with quirky features such as providing guests with bikinis that dissolve in water. The staff also need to be extra special.
"A good hotel should have a mix of industry professionals who really know how to serve and great individuals and characters who aren't too slick," explains Sendlinger. "These guys give the flavour."
He goes on: "Perfect service needs to be really intuitive but not intrusive. I disagree that the chains offer a better service.These guys are better trained, yes, but do they really know what I want? If I go to some of our hotels, the people are not so well trained but they can get me what I need because they understand me better."
Last year more than 300 hotels applied for membership to Design Hotels. Only ten percent qualified. Sendlinger knows what makes a great hotel. So much so that he is planning to open his hotels under the Design Hotels brand, in cities from Berlin to London. At this stage, Sendlinger remains tight-lipped about the project, but expect industry excitement to grow as the year progresses.
2007 was Design Hotel's busiest year yet. Among their signings was the Indonesian hotel company Alila who bring a 'new flavour to resort architecture' with their properties in Bali and Jakarta, the Como Group and Tim and Kit Kemp's Firmdale Group, which own a number of hotels that include the Haymarket and the Soho Hotel in London.
21ST CENTURY DESIGN GURU
At November 2007's Sleep Design Awards, held in London, Sendlinger was lauded as a 21st century design guru. "I love this movement, how fluently people live around the world, and that is what I have been analysing and understanding for over 20 years," he says. "If you build a bigger network; restauranteurs, music promoters, architects, designers, it gets easier to understand what's happening and what will be the next thing."
However, it is difficult to resist Sendlinger's infectious love of hospitality and his uniquely eccentric predictions. In the 1980s, it was Sendlinger who said that spas were going to figure significantly in the industry over the coming decade. At the time, the big players did not agree. Holistic care and hospitality? No way, they thought.
"In 2008, designer touches are almost standard and have increasing importance in an evolving industry where brand awareness and loyalty determines survival."
The idea behind Design Hotels was simple. There was a gap in the market. "I was working with early design hotels for almost five years and I realised the hospitality industry had been too slow to understand it," he says. "As my tour operator model was far too complicated and my representation model not feasible in making money, I set up a hotel marketing and membership organisation where you get your hotels into the group and then work with them."
The Sleep event itself is testament to how big and influential the design market has become. A decade ago, Sendlinger tells me, design hotels were eccentric novelties that offered competitive advantages in niche markets. In 2008, designer touches are almost standard and have increasing importance in an evolving industry where brand awareness and loyalty determines survival.
"Trying to get the customer attached to your brand with loyalty points may have worked a couple of years ago but
it's going to be more and more difficult today," says Sendlinger. "You have to push the envelope."
Sendlinger looks to how hotel groups like Starwood and Marriott International have entered the boutique market with their new brands aloft and Edition. Marriott has brought in legendary designer Ian Schrager as a co-partner to create Edition which debuts in 2010 in nine cities, including Paris, Madrid, Chicago and Los Angeles – 100 more are supposedly to follow leading us to the subject of whether the big chains can get the design hotel equation right.
"I think that W is pretty good," says Sendlinger. "I think the worst example is the Intercontinental with Indigo." When asked what he doesn't like about it, he replies: "Nothing at all!" Sendlinger is also adamant that chain designer brands will not be a big threat to the independents. "If they deliver a difference, it will be really hard for the chains to compete with them," he says.
Despite this, Sendlinger has a healthy respect for the big guns. His favourite hotel is the Park Hyatt in Tokyo. "I think it's the best in the world," he says.
Today, Design Hotels offers hotels that Sendlinger describes as "fully-integrated marketing solutions". His experience means that he has witnessed the evolution of boutique hotels firsthand. Some of his predictions sound off-the wall but in ten years time, you may be reading about them here. Take for example his vision of hospital hotels, where you will be able to order liposuction as part of room service or get your eyesight corrected by laser operation. Sendlinger has looked to Thailand where the concept is in its infancy.
He believes there could be a big market for it in the US. As for the guestroom of the future, Sendlinger has a few ideas. "It will either be a bamboo monk's cell or a one-touch 3D experience," he tells me. "It will go in both directions."
For half the year Sendlinger is on the move, visiting and inspecting hotels across the globe. The rest of the time is spent with his youthful 35-strong team at Design Hotels headquarters, located in a warehouse office overlooking Berlin's hip Landwehr Canal. Sendlinger has opened offices in Barcelona, London, New York, Singapore, Bali and Tokyo. Today, his main focus is on the strategic and creative development of the company as well as making sure the hotels on the books remain up-to-scratch – this year Design Hotels are implementing a mystery guest programme.
Design Hotels also assists new members in defining their boutique identity. In 2006, the company started offering a new service to advise and consult the rephrasing of concepts such as helping clients find an architect or an interior designer. "We act as a translator," says Sendlinger
DESIGNED TO SERVE
Despite the sexy, slick aesthetics of Sendlinger's stable of hotels, he insists that no matter how great a hotel looks, without great service, success is impossible. The same goes for incorporating high-tech gadgets and gimmicks.
The best design elements serve the needs and wants of the traveller. Sendlinger once famously described concierges as a guest's "friends in the city". As he explains, personalisation is the key to creating a boutique hotel. Design Hotels also operates a no-star rating system – some of the hotels on the books have rooms starting at $60. Indeed, what characterises all Design Hotels is that they do not have anything in common with each other. They are all local and unique.
Many of Sendlinger's predictions go beyond hospitality. The way that the luxury hospitality business has evolved means that it is now a much broader and adaptable market where boundaries are easier to blur, creating a fertile, albeit stylish, area in which to create new concepts.
Sendlinger looks at the relationship between property and place developing as people increasingly choose to lead their lives in multiple locations. "The next trend is a combination of hospitality and residences and will be a different way of owning real estate, allowing us to seamlessly travel around the world," Sendlinger says. "When you invest in property you create your package and choose your ingredients," he says. "If your life is effectively a busy race-track between New York, London and Geneva it's most likely you will have your family sitting in Geneva but in London and New York you will have your second and third houses and you will own part of them. This is where hotels can come in."
"I think Moscow is definitely a city where a proper place would just rock."
Sendlinger does not think people will tire of design hotels so long as they evolve. "We don't just want to have funny chairs standing around and be really avant garde," he says identifying a few horizons this niche market is exploring further. "One is a rather minimal, yet tactile approach," he says. "I see this as the new art hotel where a museum meets hospitality." Interestingly, Sendlinger retains his faith in spa hotels, which he believes have plenty of life left. "It's not about being just a part of a hotel anymore," he says.
Looking ahead, Design Hotels is focusing its attentions far beyond Europe – last year they signed the Uma Paro in Bhutan.
"We are not so strong in North America and there is not so much product in South America, but we are getting there," Sendlinger says. "In Asia we are there with the resources but are not present in the cities and that's something we are eager to grow into. There is a big need in the metropolitan areas in the Asian market."
Despite this there are some places in Europe which are crying out for a touch of Design Hotels magic – "I think Moscow is definitely a city where a proper place would just rock."
For Sendlinger, hospitality is at the forefront of the big lifestyle changes of the last decade. "Travel has become more individualised," he says. "In the Western world we have got more access to cash, more holidays, so people are travelling more and more. My parents used to book our holiday for August in February. Now, if I look at my apprentices from university, almost every weekend they are off somewhere. The world has become very small."