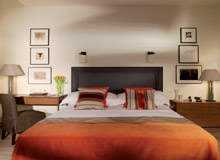 Olga Polizzi knows what makes a hotel special, which is not surprising given her background. The daughter of the late hotel magnate Lord Forte and sister of the international hotelier Sir Rocco Forte, her brother enlisted Olga's design expertise in building up the Rocco Forte Collection.
The siblings' winning five-star formula is actually very simple. It comes down to comfort, first-rate service and a classic aesthetic and is never about hopping on the latest design trends.
"There is absolutely no point in tables that aren't solid and chairs that aren't comfortable."
"We've all gone mad on design now. For years and years everyone said, 'England is so behind. There is no interest in design. There is no interest in contemporary.' Now it's gone completely the other way and everything looks the same," she says.
"Things do change, so you want to add a little bit of today. But you don't want to push it so far that in five years time it still looks like 2008. It's got to be something that lives for many years."
For Rocco Forte hotels, Polizzi is most concerned about comfort and common sense design.
"When I was younger it was 'the look'. It has to be a combination, obviously, but there is absolutely no point in tables that aren't solid and chairs that aren't comfortable," she says. "Comfort has to be a major part of it."
But generally, comfort is the lowest common denominator in the world's most spectacular hotels. So what sets the Rocco Forte Collection apart from the rest and makes it so successful?
Talking to Polizzi about her approach to each hotel's unique interior, which is thoughtful and considered, one wonders if she might be her brother's secret weapon.
Aside from luxury and classicism, there is no Rocco Forte signature style, per se, because Polizzi takes pains to ensure that each of the hotels across the globe – from Brussels to St Petersburg – inwardly reflect its surroundings. She tries to capture the essence of a place and draw it into the design of the rooms, which is the opposite approach to other hotel chains that have identical properties around the world, or, in some cases, who hire 'celebrity designers' to put their indelible stamp on things.
"It would be easier if we had one style, but I suppose its more fun doing it this way," says Polizzi. "Everyone has a favourite hotel of ours. People love the Astoria in St Petersburg or they love the Charles in Munich, but they don't necessarily put all Rocco Forte hotels together because every one is different."
This is precisely the personalised approach Polizzi took when considering the interior design for Rocco Forte's imminent addition – The Augustine in Prague, set to open in autumn 2008.
KEEPING THE HISTORY
The hotel, which is housed in a thirteenth century Augustinian monastery, will use established courtyards and garden squares while retaining certain areas for practicing Augustine monks.
Key historic features such as cloistered terraces, wooden ceilings, wine vaults and stone arches have been incorporated into the design, and guests can even make an appointment to go into the monk's library, which is the oldest and biggest in Prague.
"It's a marvellous site," says Polizzi. "It's a five-star hotel, so it's got to be luxurious and comfortable, but I've tried to recall the monastery in some ways – with the wood floors and the heavy linen everywhere. I've also tried to use ecclesiastical colours – reds and oranges and greens, in keeping with the theme."
"It's going to be nicer than anything else there because it feels like Prague."
In the bathrooms, she used angels' wings or monk-like figures on shelves to reinforce the building's rich history. "I think you've got to have a sense of fun in design. It gets a little bit boring if you take it too seriously," she says.
But knitting the hotel into its surroundings goes beyond the building, however, because Polizzi very much tries to use local craftwork and materials in Rocco Forte Hotels.
For the Augustine, she specified locally-sourced wood, glass and ironwork, plus all the furniture was made in Prague. Artwork from Czech artists adorns the walls. Books by Czech authors and poets are on the bedside tables.
"It immediately gives you a sense of the place you're in," says Polizzi, who has taken a similar approach with all Rocco Forte projects. Local culture is at the heart of her design approach. "When I was doing the Astoria, I thought 'What is St Petersburg?' At first, I went toward richness, gold, red velvet – you know, the obvious things. I did a prototype room with heavy red velvet curtains and gold twiddles and things," she explains.
"Then I met somebody who imported Russian linen. I didn't realise they made linen in Russia and use it a lot. All the houses have it. So then I thought perhaps I'm wrong, I should do it a little bit more Chekhov."
"It's a five-star hotel, so it's got to be luxurious and comfortable, but I've tried to recall the monastery in some ways."
"The design stage is trial and error," she says. "Some come very easily and others don't." At some stage of the process a prototype room is made up to show her brother and the rest of the team. "Everyone has a look at it, criticises it and rips it to pieces…," she laughs. "I'll listen to some of the complaints and not to others if I feel strongly about something."
Though she doesn't often second-guess her design instinct (she famously stood up to Margaret Thatcher on details of the redesign of Number 10) she does sometimes worry about getting it wrong.
"It's millions of pounds we're spending. If one hotel doesn't fill up and make its money back, it would be very bad for the company. I know that it's important to get it right," she says. "Sometimes it is a bit nerve-wracking but other times I know it's going to work."
The Augustine is one project that she instinctually feels is going to work. "It's going to be nicer than anything else there because it feels like Prague. It's not the usual international five-star hotel. We've thought about it and we want it to fit in."
And this is the essential ingredient of Olga Polizzi's work. It is low key and humble. It makes sense. "You go to some of these hotels and its just gimmicks," she says. "It's ok to have fun, but to have glass headboards? Do you really want a glass headboard? Having something new for the sake of it, there's not much point."