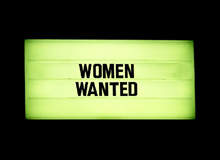 The Ecole hôtelière de Lausanne started this academic year with 1,830 students and 89 nationalities on campus. The figures are indicative of a truly globalised hospitality sector and an industry that has lost none of its appeal to young men and women charting out future career paths.
There is another figure that catches the eye: about 60% of these budding hoteliers are female. For an industry that has traditionally boasted a more even gender split than most, the hotel sector has long struggled to reflect the number of women on its books when it comes to appointing senior-level roles.
If so many women enter the industry, where along the way do they start to disappear?
There are high-profile exceptions. Not only is Johanna Fragano a successful hotelier, she has also served as a popular representative of her peers as president of the European Hotel Managers Association for the past three years.
Franka Holtmann's standing as one of the most respected general managers in Europe has been reflected in an array of recognition and international awards. Angela Hartnett was such a success as executive chef at the Connaught that Gordon Ramsay gave her two restaurants to open in six months.
'This is not the stuffy, conservative industry it once was.'
Such stories still stand out for their scarcity, however, and when one travels even further up the food chain, female representation at board level is rarer still. A scan of the executive management teams at Starwood, IHG, Marriott, Wyndham, Hilton, Accor and Hyatt demonstrates that they can boast only three women among their numbers.
There has never been a female CEO of an international hotel group. While this may be a discrepancy one sees regardless of industry, it remains a worrying statistic.
Could and should the hospitality sector do more?
"I think it is slightly unfair to castigate the hotel industry for not making an effort to get more women into senior roles," counters Nina Johnson-Bennett, founding managing director of Management Search Executive Limited (MSE), a recruitment specialist that sources directors and senior executives for hospitality companies. "Many come to us actually asking for female recommendations because they see the need to balance their teams. It's more often a question of the numbers not being out there."
So why might this be? Johnson-Bennett believes that the demands a career in hospitality traditionally placed upon one's lifestyle were not conducive to those wanting to take time out to start a family, and a lack of flexibility could make balancing the twin concerns of work and home very challenging.
"One does see a larger drop-out rate with women as they move through the industry," she begins. "It becomes an increasingly male-dominated world as one nears the higher echelons and that can be tough. I think chauvinism can be a misleading term and doesn't really apply here but there was a time when a woman wanting to get to the top had to work harder and longer than her male colleagues. That has certainly changed now, though."
Katie Benson, managing director of the Langham London – and group regional vice-president, Europe and North America – also believes things have changed. "Originally, senior women were almost only ever found in HR, housekeeping, and occasionally sales and marketing," she begins.
"There are now new ways of balancing private and work lives and women are perhaps more ambitious than they once were. The globalised nature of hospitality also means there are so many more opportunities out there: people with concrete goals are getting bigger and better chances of realising them. That works for men and women alike, but it also creates a more level playing field."
Benson's London appointment in March of last year saw her return to UK shores for the first time since embarking on a 30-year career that included stints in the Middle East, South Asia and Australia. What made her leave initially was not a lack of opportunity for women generally, but rather a clear ambition to move up the ladder quickly.
"I'm lucky to have never come across anyone in my career who held me back because they were suspicious I might disappear to get married and start a family," she says. "I was working in the Middle East before there were any women there and being in a minority, both in terms of gender and race, was certainly no problem. Yes you have to prove that you're as good as anybody else, but that's the same for everyone looking to get ahead."
This raises the issue of positive discrimination: should hotels look to increase the number of women in senior positions through artificial means? "You want people to recognise that you got to where you are on your own merits and are not merely part of some quota," Benson replies.
"I want everyone to be confident that I am up to the job that has been handed me without any reservations."
From a recruitment perspective, Johnson-Bennett could not agree more. Where effort must be invested, she believes, is communicating to young women that they will not have to make acute sacrifices to get into senior positions.
"The major hotel companies and smaller luxury groups have recognised that they need to put in all the effort they can to redress the balance," she believes. "I think the industry now compares very favourably to other segments in this regard. When I look at the focus on recruiting, retaining and promoting women, and the packages on offer, it's a clear indication that this is not the stuffy, conservative industry it once was. Pay is better, working hours are far more flexible, we're seeing crèches being brought into hotels, family discounts for holiday breaks. Now it's a question of getting that message out there."
'What is really important are great mentors."
Johnson-Bennett cites the importance of visible role models, individuals such as Benson and Holtmann who can communicate that message through their sheer presence on the international hotel scene. "They have a big role to play in demonstrating to young and even middle-aged women that you can get there," she explains.
Benson agrees to an extent, but believes things should never be divided upon such stark gender lines. "Yes young ladies need to see other women in senior positions, that will always help," she begins, "but what is really important if you're going to make it to the top are great mentors. We've a whole generation of people in this industry who've never seen a downturn before. Having someone to talk to is what will see you through."
Both women agree that the changing nature of the hotel experience and an opening out of the number of potential routes to the GM role create an environment that is conducive to elevating more women to the top post. "It used to be that GMs only came up through rooms or F&B," says Benson.
"Now they seem to be from all walks of life; you get managers and directors with sales and marketing backgrounds, HR, finance, and these are roles where more women are traditionally found."
"That's very true," Johnson Bennett agrees, "I would also say that a movement away from the white-gloved service of the past to an emphasis upon lifestyle and personal service has seen a more feminine approach come in. Previously, things were very authoritarian. Things have become a lot more consultative and relationship based. These concepts do play to what are considered traditional feminine strengths."