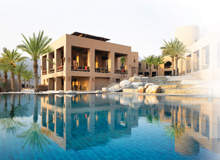 When Scandic decided to adopt a green programme in 1993, its team members got together to discuss what could be done. Within six months, 1,500 ideas had been put into action.
Sixteen years later the company continues its pro-active approach, from removing jumbo prawns from its menus to preserve the mangroves, to sorting waste into 22 categories. It has saved more than €18 million in the process.
"We looked at the areas where we had the heaviest footprint," explains Scandic's sustainable business manager Inger Mattsson, "and those areas happened to be the ones where we could save the most money."
The crucial areas were in conserving energy and water, using fewer chemicals and throwing away less waste. "First we save, then we invest that money into new technology, which saves even more money and is even better for the environment," she explains.
InterContinental Hotels Group (IHG) senior vice-president of corporate responsibility David Jerome agrees there are savings to be made. "Switching light bulbs is a perfect example. Your payback on a per annum basis is less than six months in many cases."
"First we save, then we invest that money into new technology, which saves even more money."
He believes that in many cases going green costs a lot less and pays back faster than people think. "There are companies that have said "during the financial crisis we're not doing this".
I think that's a mistake, and puts them at a competitive disadvantage emerging out of the financial crisis."
Below the surface
Operating in an environmentally sustainable way does not stop at serving an organic menu or switching to energy-saving light bulbs. It extends to the beliefs at the heart of the company.
IHG recently pledged up to $1m to fund Oxford University research into areas rich in rare and threatened plants, by asking its Priority Club members to switch from paper to e-statements. "A lot of our ideas about how corporate responsibility should be executed are about innovation," explains Jerome.
"We were left a bit unsatisfied with the idea of simply offsetting because it wasn't us improving anything per se. We felt it was like paying for our sins, which is fine, but we thought we could do more."
He adds that IHG works on the basic idea that it should understand the facts.
"Working with scientists helps inform us of smart ways to run our business so that we're not denigrating the environment. We could even move into a frame of enhancing it."
Cultural attitudes play a part, says Mattsson, as she realised while talking to students from India. "Someone was saying: 'I'd love to open a conscious hotel chain in India but it would never work because Indians are not that conscious about the environment.' I said: 'But maybe people are conscious about their money, so you can take it from that angle.' He replied: 'No we're not interested in money – we're just interested in being famous,' but then he said to himself 'maybe I can be famous for running such a hotel.' So that's an angle too."
"We were left a bit unsatisfied with the idea of simply offsetting because it wasn't us improving anything per se."
If an operation's geographical location needn't get in the way of approaching green issues, what about its position in the market? Is there a danger that planet-saving measures could damage the atmosphere of unbridled luxury that many top-end properties have worked hard to create?
"If poorly executed, yes," concedes Jerome. "If you're giving your guests a bunch of trade-offs in the name of green, I don't think that's going to help. You don't have to take measures where the guests feel they're the ones making all the sacrifices."
Lyndall de Marco, the Hotel Sustainability Ltd managing director who Kurt Ritter described as the "queen of green", attests to the possibility of creating a thoroughly indulgent eco-experience: "A company that really does green luxury – that lives it and breathes it – is Six Senses. They're just breathtaking. We're talking about air conditioning that comes from deepsea water, islands that have no cars. They recycle all their rubbish and turn it into fuel, and they are a six-star, luxury brand."
The question of whether guests care enough about a hotel's green policy for it to be a deciding factor in their choice to book is a matter of some debate. "When we write contracts with corporate clients they often ask for our policy but whether they really take that into consideration before they write the contracts, I'm not sure," admits Mattsson.
"But I think it adds to a positive feeling about the whole brand."
IHG's Jerome is certain that being green is good for custom. "Everything I do is based on facts about the guest," he insists. "We do real consumer insight work – not just opinion polling – to understand where their attitudes are going. Based on that work I can assure you that they care. There's been an enormous shift over the past several years."
He believes it will be a differentiator, "just as Whole Foods is a differentiated offering from other food markets. The issue will be how well we do it."
"Anybody who tries to greenwash really is barking up the wrong tree."
De Marco also sees a new consciousness emerging. "With this global crisis, spending money in luxury spaces really has to be justified," she says. "I don't think there's a hotel company in the world that could negotiate a yearly contract unless their company had a solid policy, because shareholders are simply not going to allow their money to be spent."
As for leisure travellers, she says, "a percentage couldn't care less but more and more people feel better about spending money if they know all this is being done."
Scandic and IHG join Six Senses, Rezidor, Marriott, Wyndham and Starwood as de Marco's top examples of companies making a measurable difference, but is it too easy for other companies to pay mere lip service?
"Two years ago I would have said yes," admits de Marco, "but this has all become mainstream now. Anybody who tries to greenwash really is barking up the wrong tree. The public and the media are a lot more savvy these days."
Next in line
With awareness on the up, what is next for the hotel industry? Scandic has set the bar high with its goal to reduce its CO2 emissions to zero by 2025.
"Whether that is realistic depends whether the airline industry moves to renewable fuels," explains Mattsson. "If it cannot we will have to offset. But I think all other emissions can be eliminated by then."
De Marco is realistic about the speed with which the green movement can progress. "Hotels are very keen to learn, but this is one of the largest industries in the world and there are 700,000 properties. It's very hard to work on a 25-year old building. In five years it'll be a different story."
"Being a responsible company will become a badge of honour and hotels will wear it with pride," de Marco believes. "This is going to be like health and safety – completely mainstream. It's not a project anymore. It's going to be part of the DNA."