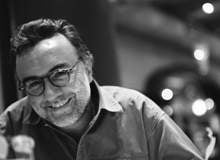 Although he is world famous as a brand, Alain Ducasse is rarely recognised in person. Gourmets who wax lyrical about the dripping deluxe finesse of his haute cuisine restaurants and the legendary Rum Baba are unlikely to give him a second glance.
They might assume that the elegant man with the impeccable suit and monogrammed shirt seated in the Dorchester lounge to meet me was merely a customer awaiting a table. Ducasse, who firmly eschews TV, prefers it this way.
"What drives me is exactly the same as in the early days: passion. I'm incorrigibly curious about food. I keep being excited by tastes, ingredients, recipes. I'm fascinated by this simple question: how do our contemporaries eat and why? Fame doesn't interest me."
Ducasse concentrates intently throughout the interview, talks swiftly and precisely, and, rather disconcertingly, makes notes to himself as we speak. He's truly the perfectionist who believes in making each moment count.
École de Cuisine, Ducasse's latest venture, is a standalone cookery school for the public in Paris. It had long been on the game plan but it took some time to find the ideal location for what, unsurprisingly, is no ordinary cookery school, and oozes sophistication and professionalism.
A discreet building within the chic 16th arrondissement, the school designed by Pierre-Yves Rochon has four vast ultra contemporary kitchens named after some of Ducasse's favourite ingredients – Piment, Cepe, Olive and Truffe – and is run by chefs who trained within the Ducasse empire. Ducasse is bullish about its prospects for success despite the present economic climate.
"People need a hobby and cooking is a way to forget your worries. It's about the joy of giving yourself and others pleasure," he smiles.
"What drives me is exactly the same as in the early days: passion."
Courses echo the range of Ducasse's restaurants, from the simplest bistro cooking to haute cuisine, reflecting a growing interest in cooking at a higher level for home entertaining.
Ducasse is decidedly buoyant about how the global crisis is affecting him. "It's barely impacting on our business. People are more careful and discerning about where they spend their money and, at our level, we benefit from this. We have hardly noticed a difference in spend. With the arrival of the second star, Ducasse at The Dorchester in London is definitely in the ascendancy. The restaurant has its own identity within the hotel and brings in more high-end foodie customers, and we benefit from its location, reputation and far-sighted management. It's a win-win situation. Nor are things as bad in France as in the US or Asia. Not all my customers are Madoff victims," he jokes.
"What's important though is to always offer more to the guests, to keep evolving and exceed expectations. Guests' pleasure requires some sort of surprise. The restaurant business should be all to do with generosity."
What Ducasse will concede is that, while in the past he would be approached at least each week by a hotel group wanting him to open a restaurant, this has slowed down to one request a month.
"We don't need to be pro-active and we are certainly not looking right now." The latest Ducasse project extends the relationship with W hotels beyond New York, Washington and Las Vegas: Mix on the Beach at Vieques opens near Puerto Rico at the end of November – "a truly beautiful resort," he enthuses – and will mix Mediterranean and Southern American culinary influences.
Ducasse rarely takes holidays beyond weekends at his family home in south-west France, but concedes that the Aman resort at Bhutan is "utterly magical".
Most fundamentally, Ducasse believes that the success of his restaurants stems from his obsession with exceptional produce served in perfect conditions with a sense of harmony and humility. As I discovered on trying out École de Cuisine, it's not only about choosing ingredients at the zenith of their seasonal perfection but using every part; the fanaticism for detail Ducasse instils in his chefs extends to using leftovers creatively too.
He professes to be modest in his tastes: "If my cuisine had to be defined by one taste it would be olive oil, which is the soul of Mediterranean cooking. And my favourite dish is cocotte of Provencal vegetables. It embodies the elegance of simplicity – this epitomises the cuisine I love."
"Being conventional is not an option. Attitudes can and should evolve."
Ducasse inspires intense loyalty among his staff, many of whom build their careers within his company. He puts this down to remaining a chef at heart: "That puts me in the best possible position to communicate with the staff."
What motivates Ducasse remains straightforward. "It's the last restaurant I've opened and the next one." He's also fiercely proud and supportive of his protegées.
At a recent dinner in London he gathered those now running restaurants in London – Claude Bosi, chef-patron of Hibiscus, Hélène Darroze, chef-patron of Hélène Darroze at the Connaught, Alex Gauthier, executive chef at Roussillon, Clare Smyth, head chef at Restaurant Gordon Ramsay, and Jerome Tauvron, executive chef at L'Etranger – at a dinner to debate hot issues of sustainability. "It's important for a very pragmatic reason: a sound system of agriculture provides products that are much better than industrialised ones. Being conventional is not an option. Attitudes can and should evolve."
Ducasse certainly doesn't miss a beat in following up-and-coming chefs either. "There are so many I could quote – Tom Kitchin in Edinburgh, Tristan Welch in London, Davide Oldani in Milan, Sylvestre Wahid, who recently joined l'Oustau de Baumanière in Provence – but I would feel guilty not to mention hundred of others. Talented chefs are fortunately now found everywhere in the world. It demonstrates the vitality of our profession. It is a very reassuring sign for the future."
Ducasse is president/ambassador for the Châteaux et Hôtels Collection of hotels, restaurants and bistros, which now extends beyond France to Italy, Spain, Switzerland, Belgium, Luxembourg and Andorra, and naturally includes Ducasse's own properties in Provence and Tuscany. The principle is hotels and restaurants that fully reflect the authentic character of the region in their food and hospitality.
"And convey a joie de vivre, that's what makes the difference to a good and memorable establishment," he insists.
Ducasse remains dedicated to constantly redefining classic French dishes. "I stand for continuing traditions with a modern touch and constantly striving for perfection – nothing less," he concludes, smiling rakishly, "even if that is not so interesting to the media."