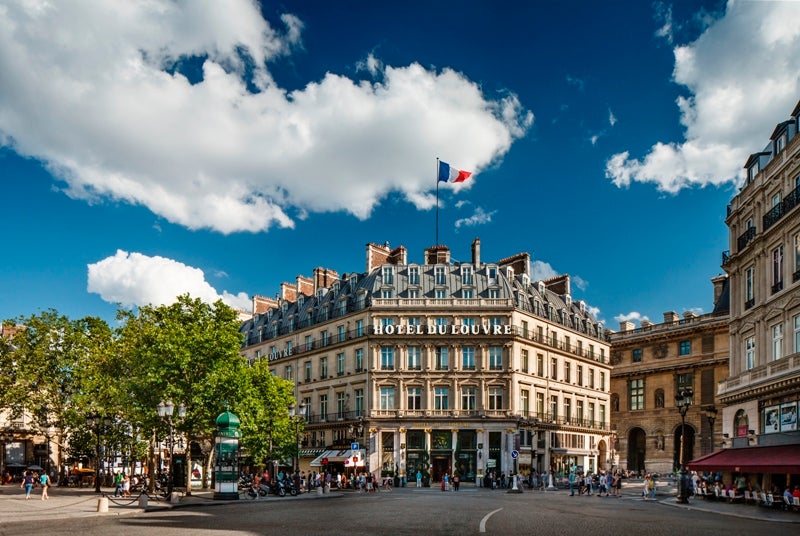 Hyatt Hotels has completed the renovation and reopened Hôtel du Louvre in Paris city's Palais-Royal district, France.
Part of The Unbound Collection by Hyatt, a collection of hotels with their own narrative, Hôtel du Louvre is surrounded by the Musée du Louvre, the Comédie-Française, the Palais Garnier and Palais Royal.
This is the fifth property to join The Unbound Collection by Hyatt in Europe.
The redesigned 164 rooms and suites showcase the original Parisian style, with high ceilings, elegant mouldings, marble floors similar to Opéra Garnier, and Parisian furniture.
Some of the 106 sunlit rooms and 58 suites also offer balconies with views over the Opera Avenue, Comédie-Française and the Louvre Museum.
Illustrations by Emmanuel Pierre are featured in the rooms and in the hotel's public spaces. The lobby and dining areas have been redesigned by architect George Wong.
The hotel was first opened in 1855 during Napoleon III's empire as Paris' first grand hotel. It showcases the Second French Empire architecture and a modern interior design.
Hôtel du Louvre will now accommodate Brasserie du Louvre, the first Parisian 'Brasserie Bocuse' and part of Bocuse's Restaurants et Brasseries de Lyon, serving traditional French cuisine with recipes developed by 'Chef of the Century' Paul Bocuse.
L'Officine du Louvre Bar, located under the hotel's glass roof, serves herbal-based cocktails celebrating Napoleon III's love of botany.
The hotel houses eight meeting rooms, ranging from 204ft² to 1,474ft², are equipped with the latest technology and have designed like studios, each with a different theme around the famous personalities who shaped the hotel's history.
The hotel also includes a modern, 24-hour fitness centre on the mezzanine level.
Hotel du Louvre is the fifth property in Europe to be opened as part of The Unbound Collection by Hyatt. The previous four are Parisi Udvar Budapest Hotel, Hotel Martinez Cannes, Hotel Sofia Barcelona and Nish Palas in Istanbul.