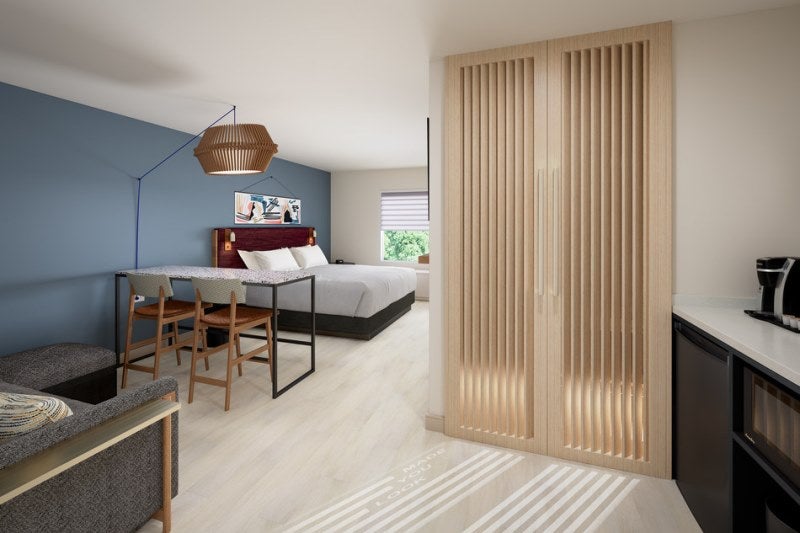 IHG (InterContinental Hotels Group ) has launched an upper-midscale hotel brand, called Atwell Suites, at its Americas Investors & Leadership Conference in Las Vegas, US.
This all-suites brand is launched to target an estimated $18bn industry segment.
IHG has a portfolio of midscale and upper-midscale brands including Holiday Inn Express, avid hotels, and Staybridge Suites and Candlewood Suites.
IHG CEO Keith Barr said: "The Atwell Suites brand is tailor-made to meet the significant demand in the upper-midscale segment for a new all-suites brand. Our newest offer gives owners and guests something different to what's out there today – a stylish suite with the flex for guests to work, socialise or explore over a four-to-six-night stay. As we focus on accelerating our growth, the brand will further extend our leading position in the mainstream space."
IHG CEO Americas Elie Maalouf said: "IHG continues to be an industry leader in purposeful and effective hotel brand innovation that anticipates the needs of the market, owners and guests – ultimately delivering long-term value and high guest satisfaction.
"The Atwell Suites brand is the latest example of how we identify a new growth opportunity from deep traveller insights and collaborate with our owners to develop a new brand customized to better serve guests. This highly anticipated new offering is a strong follow up to the successful rollout of avid hotels, the fastest brand launch in our history."
The Atwell Suites brand is designed for guests looking at a longer stay of four to six nights. These properties integrate flexibility with spaces and programmes, thereby encouraging social interaction among guests.
The Atwell Suites brand will include all-studio suites that feature distinct zones for living and sleeping, a kitchenette area with counter-height refrigerator; and a work area with a high-top desk solution.
Furthermore, the brand's design enables guests to create their own environment with more flexible meeting spaces including a meeting room integrated into the lobby, outdoor space, huddle areas and public/private working spaces.
The properties will serve a complimentary hot breakfast that will feature two to three signature hot items, alongside cold, grab-and-go options and premium coffee. Additionally, the properties will feature a bar in the lobby that will serve small plates paired with a drink menu at the end of the day.
These properties will also provide in-hotel Wi-Fi facility through IHG Connect.