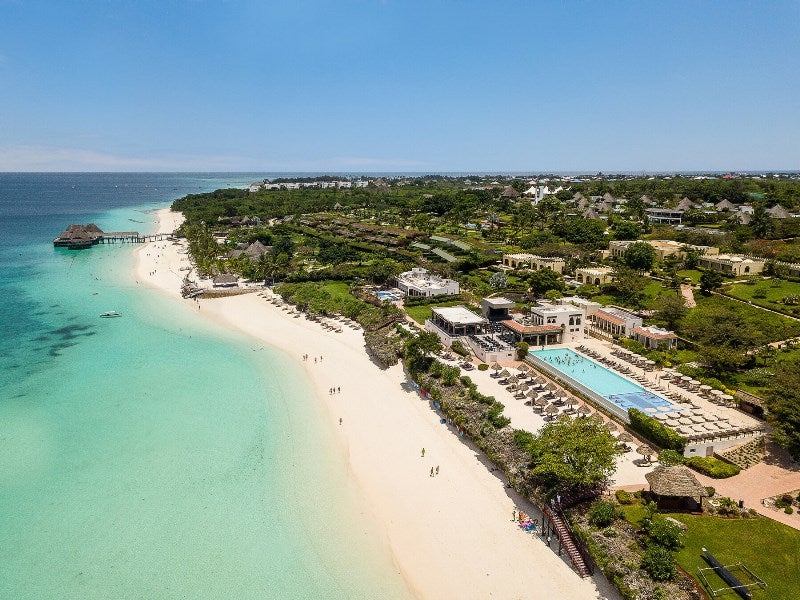 Spanish hotel chain RIU Hotels & Resorts, which specialises in holiday resorts and offers the 'All Inclusive by RIU' service, has reopened a refurbished hotel, Riu Palace Zanzibar, in Unguja, the main island of the Zanzibar archipelago.
RIU Hotels, founded in 1953, purchased the hotel in Zanzibar last year and opened its doors after completing the renovation. This was the first hotel that RIU acquired in this destination.
The Spanish hotel chain has overhauled the hotel, which included a 100-room extension. The hotel now has 200 rooms, designed with the destination's flora and fauna with the comforts of a 5-star hotel. The villas also include private pools.
The renovated Riu Palace Zanzibar includes new buildings, and their façades are designed to maintain the typical African architecture to harmonise with the pre-existing buildings.
The hotel's communal areas, such as the lobby, are decorated in earth tones and exotic colours, while the outdoor space offers a garden that envelops the hotel.
The complex forms part of the exclusive 'Adults-Only by RIU' line. Guests can enjoy RIU's all-inclusive service, which lets them try out four restaurants – the main restaurant Promenade; the Beef Steak House and the romantic restaurant Open Air; the fusion restaurant Krystal; and the grill bar Pepe's Food, located by the pool.
It also offers three bars – one in the pool and one by the beach, and Ginger coffee bar.
The hotel offers access to a private area of the beach where guests can enjoy the splendour of the Indian Ocean.
RIU Hotels & Resorts CEO Luis Riu said: "Zanzibar is a very attractive destination to our customers, so we are making a major investment there and we are committed to expanding our presence.
"As well as renovating, we have increased the capacity of this hotel, which is located right next to the newly acquired La Gemma dell'Est, whose refurbishment is scheduled to start in the next few months."