SPHINX Computer Vertriebs was established in 1989 as a manufacture of serial I/O cards. Now, with products from Barix, we offer expertise in leading-edge, IP-based communications and control technology. The company is based in Germany and specialises in data communication and information technology.
Typical SPHINX and Barix products include a range of solutions and devices that can be connected locally via standard networks or via the Internet, offering innovative, low-cost, PC-free solutions for audio over IP applications (transmission and monitoring of audio signals), communications (intercom) and automation tasks (decentralised control, monitoring and maintenance operations).
Music over IP in hotels
Every year, millions of business people and families leave the comforts of their own homes and offices to travel all over the world, both for business and pleasure. Hotels, motels and lodges in cities become popular and often relaxing homes away from home for travellers around the world.
Hotel and motel owners and staff must make it their priority to create an accommodating environment that caters to the many and complex needs of clients. SPHINX Computer Vertriebs' advanced technology provides background music in hotels, motels and lodges of all sizes, which promotes a stress-free experience for clients and staff.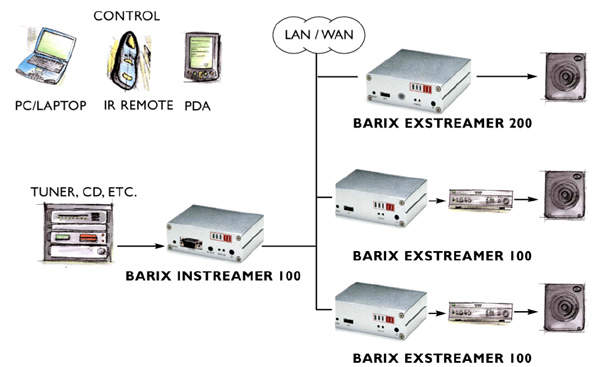 Multi-room audio distribution can be achieved with Barix's Instremer and Exstremer solutions and intercom application.<br><br><br>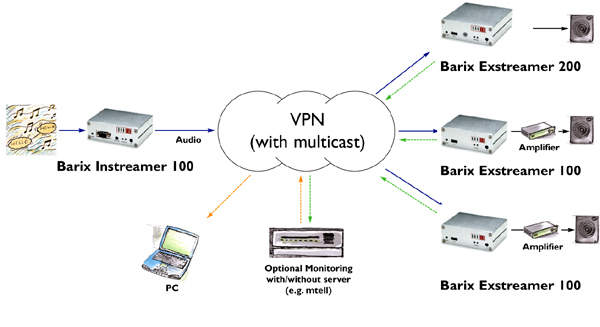 In-store radio system streaming in a VPN network at different locations.<br><br><br>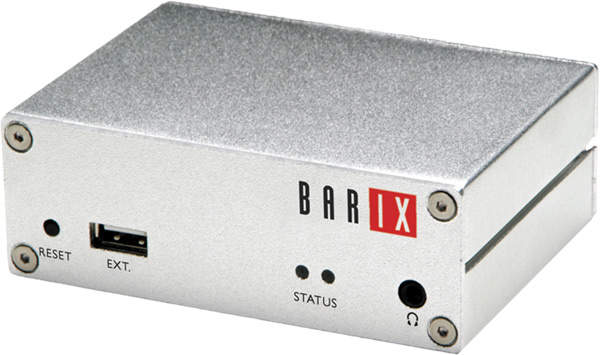 Exstreamer-100 audio decoder with streaming client firmware or store and forward application.<br><br><br>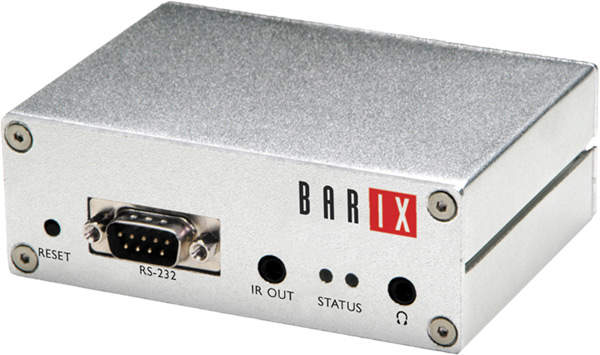 Instreamer-100 audio encoder with web-based management for easy configuration; the solution is to send audio direct to the streaming server.
Music can be downloaded from the Internet using SPHINX technology inside the hotel, providing the perfect resource for hotels and motels looking for soothing background music for their lobbies or on-hold music for customers calling to make reservations or get information about the establishment.
Audio decoders and encoders for audio over IP
With audio over IP the method of operation is extremely simple: the Barix Exstreamer audio decoder picks up the stream sent out by an Instreamer-100 audio encoder or via the Internet, converts it into music and feeds the signal to the hi-fi equipment or the room's loudspeaker system. The entire hotel facility can then be simultaneously supplied with the same music.
Through the installation of several Exstreamers, different hotel areas can be provided with a background of various Instreamer-100 or Internet radio channels.
Modular audio decoders for hotels
The audio over IP technology of the Barix Exstreamer audio decoder is highly immune to network failures or malfunctions. In the event of failure, back-up functions kick in immediately to maintain the audio flow.
The Exstreamer operates with minimal bandwidth requirements and is almost completely maintenance-free. Almost unlimited upgrading of the system is easily achieved through its modular design. With the audio over IP technology, neither expensive satellites nor PC infrastructures or data storage devices are needed.
Different audio codecs are supported and the installation is performed by every web browser you have available.
IP-based audio distribution systems
Ten reasons to use Barix IP-based audio distribution systems in retail:
As big as you are – scalable solutions from single outlet to multinational chain
Customised music, advertising and messaging by store or department, in real-time
Instant economic benefits in comparison with other solutions – no monthly costs
Simply connect to your existing IP network infrastructure in each store
Centralised management and remote monitoring, providing global coverage
Distribution of advertising can be identified and monitored for every store or department
Low in-store network bandwidth requirements
No data media server or PC infrastructure needed
Reliable, robust, maintenance-free hardware
Significantly lower power consumption than a PC
Combining voice alarms and audio over IP in one system
With its audio over IP devices Barix has defined and designed a system for general audio distribution over multiple subnets which we call the Barix Paging Protocol ('BARP'). BARP makes extensive use of multicast to address many stations at the same time, keeping traffic low. In this way the customer can combine background music, alarms and intercom in one system over IP.