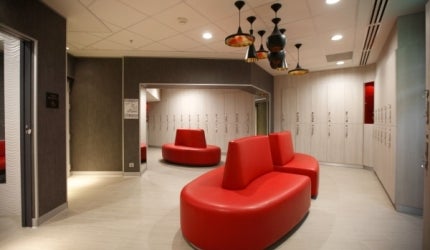 Manufactured in Italy by 35 year-old Gruppo P&G, FitInteriors is the leading European brand in wooden furniture and design for health clubs, spas and wellness areas, while BizInteriors is the brand specialising in employee locker rooms.
Gruppo P&G has created an international network that makes it a truly global company (unique in the field of wooden lockers and receptions), as its products are distributed in 20 countries in Europe and the Middle East.
Gruppo P&G products range from lockers, benches and vanity units, to spa reception counters and lounge furniture.
FitInteriors designs changing rooms for many luxury health clubs, including G Club in Milan, Italy.
This Pure Club Med Gym in Paris, France, is fitted with FitInteriors lockers and furniture.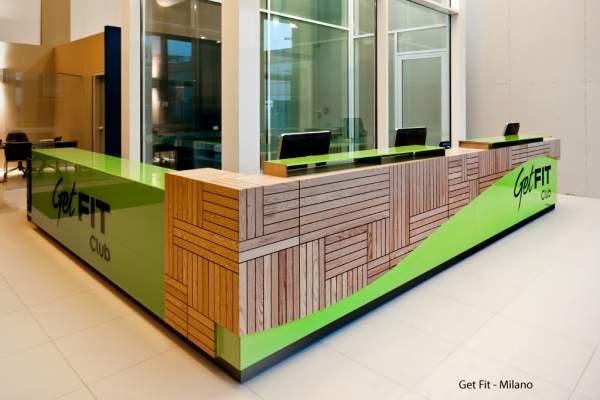 The company also designs furniture for health club receptions, such as this counter for the Get Fit club in Milan, Italy.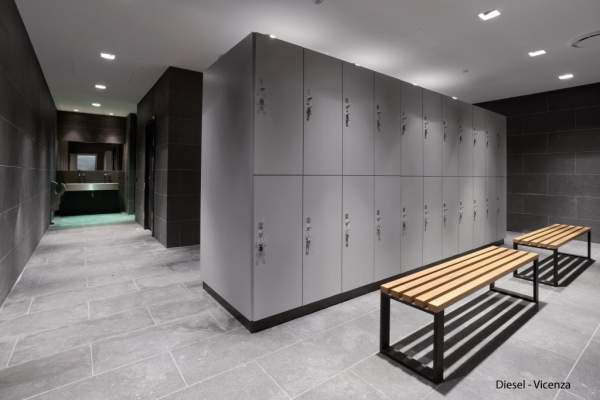 Fashion company Diesel commissioned BizInteriors to design its employee locker room in Vicenza, Italy.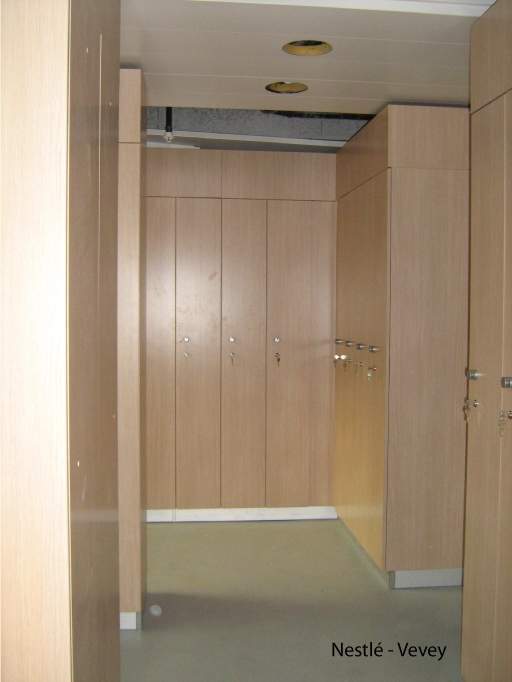 Food giant Nestlé also had its employee locker room in Vevey, Switzerland, designed by BizInteriors.
Health club and spa furniture and design
FitInteriors products feature in hundreds of high-status health clubs and many health club chains all over Europe and the Middle East. FitInteriors has also recently equipped the new Technogym Village, located inside the new Technogym factory and headquarters in Cesena, Italy.
Changing room furniture for the hospitality industry
BizInteriors provides furniture and design services to the hospitality industry, and has equipped employee changing rooms for high-profile companies such as Nestlé, at its headquarters in Switzerland, and fashion giant Diesel, plus hotels belonging to such chains as Intercontinental, Crowne Plaza, Holiday Inn, Hilton and others.
Durable, quality spa and locker room designs
All Gruppo P&G products follow the strictest quality guidelines and are extremely resistant and functional. Their features have been developed over the years by focusing on the heavy-duty environment presented by wellness and health clubs, and by employees' locker rooms.
Renowned Italian style and a thorough understanding of the importance of locker room and reception areas are the mission statements that guide the company's in-house architects and engineering team in their constant quality research and development.
Quality design and premium features for spa and wellness areas
A range of finishes, which are updated to meet the latest trends emerging from international furniture shows, stylish handles and a flare for quality design enhance the prestige and class of the rooms equipped with our solutions, while strong, full-opening hinges, double air-vents, water resistant, environmentally-friendly panels, anti-vandalism locks and anti-theft hangers provide managers with lower maintenance costs and a smooth-running facility.
Health club and employee lockers
There are specific features and measurements related to different settings: employees' changing room lockers feature an internal compartment pattern, slanted roofs to avoid dust formation, and are shallower, while health club lockers may feature LED lighting and door silencers, and are deeper, to house sports bags.
Complimentary design consultancy service
Apart from its top-notch furniture products, Gruppo P&G stands out for its comprehensive free-of-charge consultancy service, which includes 2D layout planning and 3D coloured renderings, helping the customer visualise the project's outcome.
Bespoke spa furniture
Although the company offers a complete product range with full industrial production procedures, Gruppo P&G has strategically retained full flexibility, allowing it, when requested, to manufacture bespoke furniture that strictly follows customer specifications. For this reason, world-renowned architects and designers involved in the construction of top-range health clubs and luxury hotels have entrusted Gruppo P&G with the manufacture of lockers, benches and reception counters of their own design, and have been extremely satisfied with the results.
To find out more about Gruppo P&G's products and services, please contact us using the details or form below.