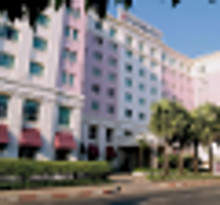 Pan Pacific Hotels Group has signed a conditional joint venture agreement with infrastructure development firm Shwe Taung Group for construction of its first Pan Pacific hotel, the Pan Pacific Yangon, in Myanmar.
Pan Pacific Yangon, a mixed-use development project that comprises serviced apartments, retail and office spaces, is strategically located along Shwedagon Pagoda Road and Bogyoke Aung San Road in the heart of Yangon city centre.
Pan Pacific Hotels Group will own a 20% interest in the joint venture and be responsible for its management, while Shwe Taung Group and the City Square will control 60% and 20% interest, respectively.
UAE-based Rotana Hotel Management will expand its presence in Saudi Arabia with the opening of a new hotel, Rosh Rayhaan by Rotana Hotel, in Riyadh.
Located in Olaya Street, the hotel will have 236 rooms and suites, along with guest facilities that include a health club, ballroom, meeting centres and four restaurants, providing Arabic and international cuisines.
Rosh Rayhaan by Rotana will be the company's second property in the region and is scheduled to open during the first quarter of 2014.

Starwood Hotels & Resorts Worldwide has announced the re-opening of the Sheraton Mallorca Arabella Golf Hotel in Spain.
The move follows completion of a nine-month renovation programme, which is part of a multiyear project to revitalise the Sheraton brand, through which Starwood and its partners have invested more than $6bn.
The renovated hotel has 93 guest rooms including 23 suites, which are equipped with all-white Sheraton Sweet Sleeper Bed, a warm palette and large terrace doors that open onto views of the garden, pool or golf course.
US-based Red Lion Hotels has opened two franchises in Greater Los Angeles and Eastern Washington wine country in the US.
Ayres Grand hotel in Los Angeles and Walla Walla hotel in Washington were renovated and converted into Red Lion Hotels brand.
The first franchise, The Red Lion Hotel Ontario Airport, 204 N Vineyard Ave., located around 35 miles directly east of downtown Los Angeles, has 107 rooms and suites and borders the Ontario Convention Center.

Wyndham Hotel Group, part of Wyndham Worldwide, has entered into an agreement with Grand City Hotels to launch 16 hotels across Germany and one in Austria.
According to the agreement, both companies will first launch the Wyndham Grand hotel in Salzburg city, Austria, and 16 hotels throughout Germany, including five which recently opened in Hamburg, Berlin, Düsseldorf, Dortmund and Cologne.
The agreement is an addition to a deal signed by the two companies in February 2013 to rebrand 43 hotels, and the strategic alliance now extends to 60 hotels and more than 7,500 rooms across four countries under the Wyndham Grand (seven properties), Wyndham (six), Wyndham Garden (17), TRYP by Wyndham (21) and Days Inn (nine) flags.
Global hospitality firm Carlson Rezidor Hotel Group has expanded its portfolio in Russia with the addition of two new hotels in the country – the Radisson Congress Hotel, Moscow and the Park Inn by Radisson Hotel, Moscow.
Located on the grounds of the All-Russian Exhibition Centre in Moscow, the hotels are adjacent to each other and are scheduled to open in 2016.
The Radisson Congress Hotel, Moscow will feature 400 rooms and a 4,000m² conference centre, while the Park Inn by Radisson Hotel, Moscow will have 600 rooms.
Fosun International has signed an agreement with Kerzner International Holdings for development of a new resort, Atlantis, Sanya Hainan, on Hainan Island in China.
The new resort will be built on a 62ha site on Haitang Bay National Coast on the South China Sea. Construction is scheduled to begin by the end of 2013 and be completed in 2016.
Kerzner has chosen the US-based Brennan Beer Gorman Architects to design the project, while Jeffrey Beers, who was part of the teams at Paradise Island and Dubai, will be responsible for the interior design.
Al Zorah Development, a joint venture of the Government of Ajman and Solidere International, has signed an agreement with Indian hotel operator The Oberoi Group to develop and operate a luxury resort on the northern coast of the Emirate.
The new luxury resort, which will be managed by Oberoi Hotels & Resorts, will include 113 guestrooms and suites, many of which will feature private pools. The two and three-bedroom villas in the resort will include their own private swimming pools and gardens.

Hilton Worldwide has signed an agreement with Hotelera Vitacura to launch a new hotel, DoubleTree by Hilton Santiago-Vitacura, in Santiago, Chile.
The 18-storey DoubleTree by Hilton Santiago-Vitacura, which will be located at Vitacura Avenue in Las Condes, is scheduled to open by mid-2014 and will be managed by Hotelera Vitacura.
Rodrigo Parot, who has more than 25 years of hospitality experience, will manage the new hotel, which will likely include 230 guest rooms, a restaurant, a cafe, a bar/lounge as well as meeting space of about 12,000ft² including offices, boardrooms and meeting rooms.
InterContinental Hotels Group (IHG) and Operadora ALRO have opened the Holiday Inn Mexico Buenavista hotel in Mexico City, which features 143 rooms.
The ownership has invested about $9m to renovate the hotel, and is planning to add a new building adjacent to the hotel, which will feature two meeting rooms.
The Holiday Inn hotel, which is slated to open before mid-2014, includes business-focused necessities such as an ergonomic workstation and data ports, plus bathrooms that feature a multifunctional showerhead and Bath and Body Works White Citrus bath products.