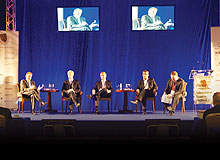 "True opportunity lies with the brave," says Guy Lean, director, Madison Mayfair, at the eighth annual International Hotel Conference in Venice in October. "My impression is that cost-cutting is largely over, and the focus now is on revenue generation whilst remaining very lean."
The general consensus throughout the conference was that the industry was rebounding from the effects of the global slowdown, although financing remains a major issue particularly for new-build developments. In 2011-12 international hotel brands and management companies will return in force.
As a panel moderator at the conference, it was clear that hotel conversions in this market are generally less costly and more readily financeable. Participants indicated that the UK, particularly London, the host of the 2012 Olympics, is Europe's current primary development market, followed by Germany, Italy, France and some eastern European countries. Turkey, with a number of opportunities for mixed-use segments, is also growing as a market.
"China and Africa offer significant opportunities, and challenges in getting hotels built."
"China and Africa offer significant opportunities," according to Bridget Baker, managing director, Bridget Baker Consulting, who moderated the Global Emerging Markets panel, but she added a strong note of caution: "Both locations present significant challenges in terms of getting hotels built."
Panellists emphasised the importance of hotel companies understanding and immersing themselves in local cultures, not only in the hotel design but in employing local people and providing training. Recognising local demand is another key to success in emerging markets and hoteliers need to reflect the aspirations of an emerging middle-class that will be the future bedrock of hotel demand in these nations. South America, particularly Brazil, offers significant opportunities for international brands.
"Local partners in emerging markets are important to help a project come to fruition," concluded Baker.
Lender issues
From a legal perspective, much of the conversation in the Successfully Resolving Complex Legal Issues panel revolved around current economic realities and the respective legal issues and challenges facing owners, operators and lenders during these difficult times.
"Of particular interest were comments about how these three groups were addressing the economic challenges being encountered by the various counterparties to their agreements," said moderator Cliff Risman, partner, Gardere Wynne Sewell LLP.
Participants attending the Loan Modification and Recapitalisation panel agreed that there was an urgent need to refinance and modify existing loan facilities.
"Such actions will require new, additional capital to redress the current imbalance between the EBITDA to loan equation," said Rod Taylor, chairman of Taylor Global Advisors and panel moderator.
New generation of hoteliers
The conference examined how the industry needs to better manage the growing problem of the expectations of young people graduating from hotel schools.
"The panel agreed there was a need to refinance and modify existing loan facilities."
"Young people are less inclined to look for a career pathway with one company, but they also need to understand that a certain amount of experience is essential to successfully fulfil the role of a manager," said Philippe Rossiter, chief executive, the Institution of Hospitality. The debate on the topic centred on how the process of professional development needs to go much further down the line in order to encourage a culture of ambition and self-improvement among all staff members, especially at the operational level.
Technology vs personalisation
The future of hotel design will be the balance between technology and personalisation.
"One school of thought was that in the future everything in the hotel room could be controlled by an iPhone, allowing the space to be tailored to the guest's requirements," said Jane Lawrence, director, Conran & Partners and panel moderator.
The dilemma was also to consider the importance of a more face-to-face attuned approach, which requires better concierge services and higher levels of customer service.
"The hotel room could be controlled by an iPhone and tailored to the guest's needs."
Other trends discussed included the idea of a hotel becoming a destination rather than just somewhere to sleep, the expression of 'the local' within the design as hotels form relationships with the local community, and improving sustainability.
"It was interesting that wanting to know more about the origins of the hotel's food wine and culture seemed to hold greater guest interest than sustainability," said Lawrence.
Spa billions
The Billion Dollar Wellness and Spa Industry discussion covered a wide variety of topics including the profitability of resort spas and city-centre day spas, the trend towards social spa-going, whether spas should be specialist or generalist, the strengths and weaknesses of outsourcing spa operations, along with staffing and long-term career planning.
International Hotel Conference
The 2011 International Hotel Conference will be held at Rome Cavalieri Hotel, Rome, Italy, on 26-28 October 2011. Visit: www.IHConference.com.